Sankyo 33-note Chromatic Paper Strip Movement
by Hans-Martin Meyer-Georges (090814 MMDigest)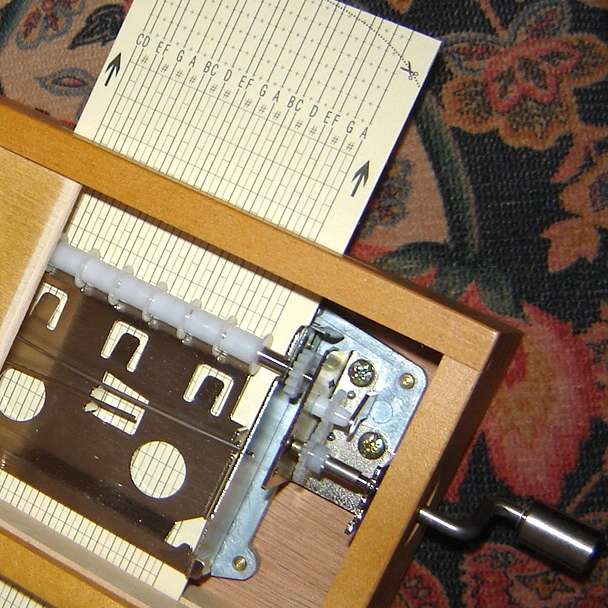 Photo courtesy Gérard Dabonot.
High-resolution image (988 kb)
Hi MMD and Sankyo manivelle friends, here are some detailed informations about the new chromatic Sankyo. I got them from Gérard Dabonot of the famous French trading company "Le Turlutain".
Le Turlutain Musique Mécanique, Editions Musicales
104 Rue d'Alsace
54110 Sommerviller
http://leturlutain.free.fr/
Tél.: ++33 - (0)3.83.48.17.82
Fax: ++33 - (0)3.83.46.82.17
The new chromatic model is produced by Sankyo, too, however not as a mass-produced product (i.e., made in China like the 20-note diatonic sister) but assembled by hand as individual items.
The base frame, external size and cranking mechanism of the movement are identical to the 20-note movement as well as the paper width. The mechanisms for plucking and damping the blades are the same as in the 20-note movement.
The nearly completely chromatic 33-note scale (gamma) is
C D D# E F F# G G# A A# B
c c# d d# e f f# g g# a a# b
c' c'# d' d'# e' f' f'# g' g'# a'
The movement is generally mounted in a small wooden resonator box with a protecting sliding lid. A "rough" movement without a resonator box is out of stock. The current (Le Turlutain) prices are
20-note "rough" movement: 50 euros
20-note movement
mounted in wooden box: 80 euros
33-note chromatic movement
mounted in a wooden box: 490 (!!) euros,
10 blank paper strips are included.
10 blank paper strips for the 20- or 33-note movement: 7 euros
100 blank paper strips for the 20- or 33-note movement: 55 euros
Up to now pre-punched strips with music tunes are not available.
Relating to the 33-note chromatic movement, Gérard Dabonot wrote to me (analogously translated): "This movement is made for a very special clientele, not for the general public. I know that this is not low-priced, but I can't help it. The price is like the one for a 33-tone music box from Reuge, Switzerland. I'm aware that it will be hard to sell at that price. ... I sell only blank strips. I'm not sure, yet, if I will come out with music strips. Printing or punching music for the 33-note movement is not economically viable and so it's not worth doing it, up to now."
My additional opinion is
- A sufficient bundle of fine professionally arranged tunes would be able to promote the publicity of this special 33-note movement and its fine music. However, very probably there will remain a blatant disparity between the melodious sounding high-quality music and the comparatively high price on the one hand, and on the other hand the totally unspectacular appearance of the boxed manivelle without outward difference to the well-known and ca. 85% cheaper 20-note manivelle. The real worth of this chromatic manivelle will be opened up by the quality of the played music only, arranged by engaged professionals, not by music that normal players and seldom arrangers and -punchers are able to create; sorry!
- It never will be a visually imposing object adapted for being presented as an exhibit item to worth-conscious collectors. But I hope it will be a fascinating instrument that surprises those listeners and music lovers who rather prize the musical possibilities and results of it than regret its anyhow enduring limitations, as well as the creative users of the 20-note manivelle did it with great enthusiasm so far (and will continue, too).
The attached files (a photo of the opened 33-note manivelle with a hand-punch, and a test sample tune) are transmitted by courtesy of Gérard Dabonot (Le Turlutain).
Hans-Martin Meyer-Georges
Freinsheim (Palatinate), Germany
14 Aug 2009 21:37:47 +0200
Files provided by Gérard Dabonot:
mg_Sankyo33-TicoTico.mp3 (646 kb)
mg_Sankyo33.jpg (988 kb)
---
15 August 2009