New Arranged Tunes for 30-Note Teanola Manivelle
by Hans-Martin Meyer-Georges (120909 MMDigest)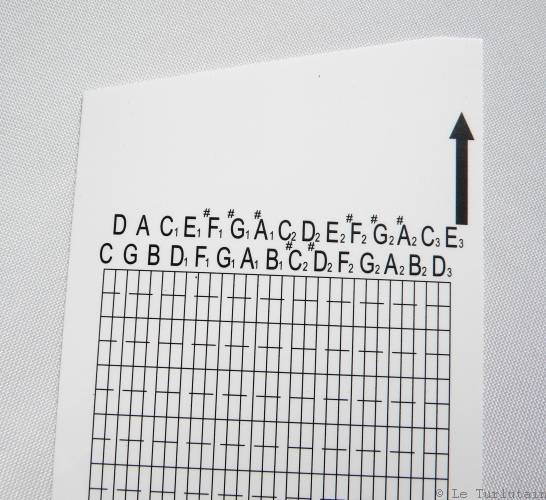 Courtesy Le Turlutain
Hello Pling-Plong Friends, Good news for those self-punchers who up to now created their own tunes on base of the well-known and widespread diatonic 20-note Sankyo movement. In my MMDigest posting of 2012.01.30.01 I expressed regret that the very cheap semi-chromatic 30-note Teanola movement was out of stock momentarily.
In the meantime, now both N. J. Dean of Bristol, Great Britain, as well as the French trader Le Turlutain, offer this instrument without case for only nearby 40 GBP or 55 euros (plus shipping) from stock. However, as before, furnished with only one pre-punched poor music strip ("Happy Birthday").
http://www.njdean.co.uk/musical-movements-mbm30hp.htm
http://www.leturlutain.fr/index.php?action=article&aid=5915
Really, "Happy Birthday" is not suitable to demonstrate the fantastic new semi-chromatic music world which is able to be opened up with it. Pre-punched strips are not in planning up to now at both traders, so I helped myself and punched my first own tunes utilizing long musical punching-experience with the 20-note Sankyo. The result is a triple of (too?) huge tunes which none would have expected to be realizable with such a little music machine.
The tunes "Ballszenen" by J. Hellmesberger, as well as "Invitation à valse" by C. M. von Weber are very typical "Salonmusik", well-known noble light music from the XIXth century. The 4-part "Suite gothique" (originally for grand church organ), by the Alsatian composer Léon Boëllmann (1862-1897), is a very popular composition with great sounds and captivating melodies. I think the musical intention of the organ music of these four movements (1. Introduction-Choral, 2. Menuet gothique, 3. Prière à Notre-Dame, 4. Toccata) has largely been transported in spite of the limited scale and the unique tone color of the 30-note comb manivelle.
Surely, these aren't tunes to be consumed like fast food and not tunes whose arrangement rules can be transferred immediately and easily to each others musical templates. Each situation needs a special solution in order to conserve the (not immediately realizable) intention of the particular musical section and in order to achieve a consistent impression in its entirety.
Also, the hugeness of all three tunes shouldn't be a solid measure for other arrangements. Rather, they illustrate the limits of reasonability than an optimal length avoiding any upcoming tedium, e.g., as the "Invitation à valse" could reach yet with its 'musically correct' repetitions. But a minimum of length will be necessary to be able to show the fine chromatic changes which now can be realized. With solely "Happy Birthday" this delightful potential can't be shown satisfactorily.
I presently have no pre-punched templates of these new three very big tunes to be freely distributed and sent via email as pdf files. However, if any well-trained self-puncher is interested in such I'll make it on demand. But then be patient with me -- these are nothing to be made in a few minutes or by an automatic program! Any comments will be very welcome.
Additionally, here are some hints for using the new 30-note Teánola manivelle and the corresponding paper strips:
- By reason of a missing centering mechanism of the paper strip in the insert slot, the final width must be exactly 70 mm, so that the first and the last tone-lane is exactly 6 mm off the paper edge.
- By reason of a missing pressure mechanism for self-regulating distance between the two transport rollers (transporting the paper by friction), the necessary thickness of the paper should be 0.30 mm, not less than 0.25 mm nor more than 0.35 mm, otherwise when playing full chords at once the rollers skid on the paper or the paper will be stuck between the fixed mounted rolls.
- Set the punched dots very exactly on the lane-line. By reason of the very small distance of only 2 mm between the tone-lanes and of the diameter of the punched hole of only 1.8 mm, even a slight deviation from the wished line position involves an ambiguous situation for the two adjacent tone-lanes and then the wrong star-wheel can be turned and the wrong tone sounds.
- Notice that the scale of the Teánola manivelle on its corresponding, delivered paper strips is denoted as following:
C . D . : : . G . A . B
c . d . e f f# g g# a a# b
c c# d d# e f f# g g# a a# b
c . d . e
However, if the scale is denoted in a different way from this but equivalent to the real sounding pitch, the relationship to the scale of the 20-note Sankyo manivelle can be made evident, particularly the enlarging development from the 20-note scale to the new 30-note scale. The added notes of the 30-note scale/movement are depicted as bold characters:
F . G . : . :
C . D . E F . G . A A# B
c c# d d# e f f# g g# a a# b
c c# d d# e f . g . a
So you have several possibilities now to fit the musical template into the present scale-frame and so to minimize the remaining musical compromises.
Kind regards from "Pling- to -Plong"!
Hans-Martin Meyer-Georges
Freinsheim, Germany
meyer-georges@web.de.geentroep [delete ".geentroep" to reply]
10 Sep 2012 01:16:18 +0200 (CEST)
Audio files:
(1) mg_30n-vonWeber.mp3 (2,080 kb)
30 - I b.2T vWeber, C.M. / Aufforderung zum Tanz
Carl Maria von Weber: Invitation to the Dance, Op. 65, J. 260
(2) mg_30n-Boëllmann.mp3 (2,084 kb)
30 - IV.6T L.Boëllmann / Suite Gothique op 25.1-4
Léon Boëllmann: Suite gothique
(3) mg_30n-Hellmesberger.mp3 (802 kb)
30 - I b.1T Hellmesberger, J. Jr. / Ballszenen
Joseph Hellmesberger, Jr.: Ballszenen (Scène de bal)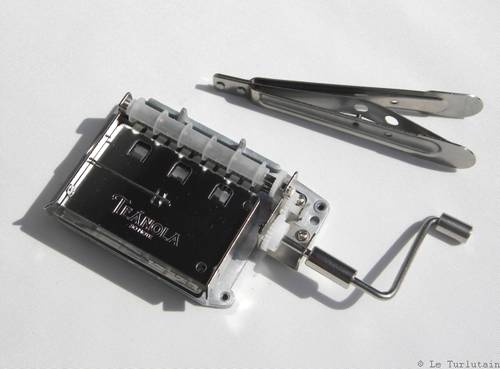 Courtesy Le Turlutain
---
24 September 2012