Tracker Bar Select Switch
by Robbie Rhodes (031227 MMDigest)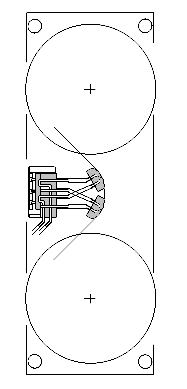 I have a nice tracker bar switch assembly, removed long ago from an unknown 65/88-note player piano, that I plan to use someday with a compact "10-tune" spool frame to play both 6/inch and 9/inch coin piano music rolls at my foot-powered Pianola.
The switch assembly selects either a 65-note tracker bar or an 88-note tracker bar to operate an 88-note player piano action. The machined brass block has two sets of nipples, all of 0.160 inch outer diameter, arranged in four rows, for 65 hoses and 88 hoses respectively. Another set of 88 holes at the bottom of the switch block received lead tubing connected to the 88-note player action.
The brass block, originally mounted on the rear of a spool frame, is 15 inches wide by 1-3/4 inches high by 5/8 inch deep; it weighs 4.4 pounds. On the back side of the block is a wood slat which moves 44 small sliding valve plates of machined brass, each plate with a pressure spring to hold it against the block, and with airways for two playing notes. Two L-shaped hooks move the wood slat up and down, which shifts all 44 valve plates together.
At the top middle above the brass block is the remnant of a wood bearing for a horizontal rotary control shaft. The shaft probably had radial arms that engaged the lifting hooks.
On the wood piece at the top of the block is the neatly handwritten inscription: "May 18, 1909 P. & D". I don't know which brand of player piano it was installed in, but surely it was expensive.
Robbie Rhodes
Etiwanda, Calif.
27 Dec 2003 18:57:41 -0800
---
27 December 2003