Wurlitzer Band Organ Factory Ledgers
Band Organ Serial Numbers, Repair Dates and Shipping Dates
by Matthew Caulfield (080212 MMDigest)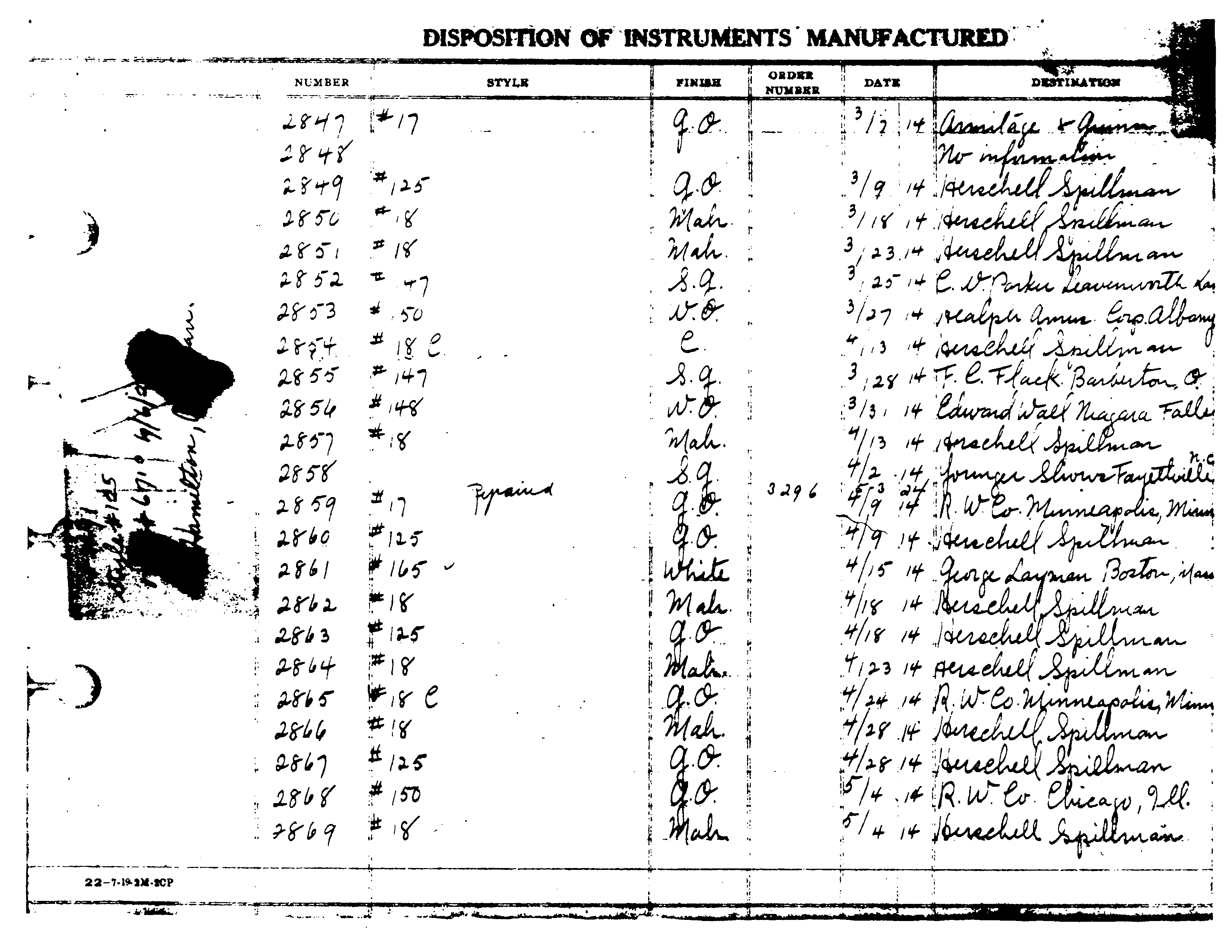 (click for full-size)
Jody, Robbie, and I are proud to announce the publication in the MMDigest Archives of photocopies of two of the three ledgers, known to have been maintained by the Rudolph Wurlitzer Company, that document the manufacture, repair, and shipment of its band organs.
The two documents are part of the Richard J. Howe Collection of Musical Instrument Literature, University of Maryland (College Park) Libraries, and were supplied through the agency of Art Breitenbach. They are available for download at the MMDigest Tech site; look for "Wurlitzer Band Organ Factory Ledgers" at
http://www.mmdigest.com/Gallery/Tech/index.html
The first document (file WBOserial.pdf 6.01 Mb) contains 63 pages, printable page-by-page. It is a list, arranged by serial number, of all band organs manufactured by Wurlitzer from March 7, 1914, to June 14, 1939. Approximately 1400 organs are listed, the serial numbers running from 2847 to 4338. For each organ, the data given are: serial number, style number, case finish, order number, date, destination.
The case finish abbreviations are, as far as has been determined:
G.O. = Golden Oak
Mah. = Mahogany
W.O. = White Oak
F.Oak = Fumed Oak
S.G. = Silver Grey
C. = ?
"White", "Drift", and "Gumwood" are also given as case styles, as well as some combination of the listed terms.
The second document (file WBOrepaired.pdf 3.48 Mb) contains 32 pages, also printable page-by-page. It is a list, arranged by date (of repair or receipt?), of all organs repaired by the factory. The data columns are the same as for the first document because the same pre-printed ledger sheets were used. The span of dates covered runs from April 5, 1918, to June 2, 1939.
Not all the organs listed for repair were Wurlitzer band organs -- a few European organs are shown, several from other North Tonawanda factories, Robert Morton organs, a couple of church organs. Many are shown as being remodeled or converted.
The repair ledger is particularly interesting for the number of rarer Wurlitzer organs listed: two style 166's, three 180's (one designated "180 Special"), and a huge number of 165's not given in the table of 165's on p. 131 of Ron Bopp's book, "The American Carousel Organ."
These two documents being added to the MMD Archives seem to be relatively unknown, compared to the famous Wurlitzer shipping dock records, which everyone knows about, but few have seen. Copies almost certainly exist however, because they have passed through several hands, being sold from one person to another. It is difficult to imagine that an owner would sell the original when he had it, without making a copy to keep. The shipping dock records are now owned by David Reidy, Santa Ana, Calif., who says they are deteriorating.
It is hoped that those records can be scanned and added here to shed still more light on Wurlitzer's band organ business. The couple of pages that I have seen suggest that somewhat more detailed data are to be found in the shipping dock records. If they were exact duplicates of the ledgers presented here, there would be little reason for keeping two sets. But until someone releases his copy for public examination, we will not know.
Matthew Caulfield
Irondequoit, New York
12 Feb 2008 11:26:28 -0500
WBOserial.pdf 6.01 Mb, 63 pages
WBOrepaired.pdf 3.48 Mb, 32 pages
---
12 February 2008