Lauter-Humana Layout Diagram & Poker Tool
by John A. Tuttle
Hi All, Reid Paul Echandia sent me a few pictures in an effort to determine which player mechanism is in his Needham player piano.
According to the reference books I have, Needham used the Standard action. However, from the pictures he sent, the mechanism is not a Standard. I realize that very few manufacturers ever produced "tubing diagrams" for their units. I suppose the thinking was that they were simple enough as not to be necessary. Situations like Reid's show that such diagrams would indeed be valuable to the novice rebuilder who doesn't have enough experience to be able to figure out the function of the various devices and valve blocks in the unit.
I've created one diagram for the Lauter-Humana, which can be confusing if all the tubes are broken or missing. I recently added a new page at Player-Care (a little more for fun than for necessity) which contains the diagram. It's at http://www.player-care.com/anfindex.html
What I'd like to suggest to all player rebuilders is a joint effort to produce as many tubing diagrams (basic layout) for as many mechanisms as possible and then make them available via the MMD web site. I've also attached the diagram of the Lauter-Humana to start the process.
Musically,
John A. Tuttle
http://www.player-care.com/
Mon, 20 Mar 2000 11:46:32 -0500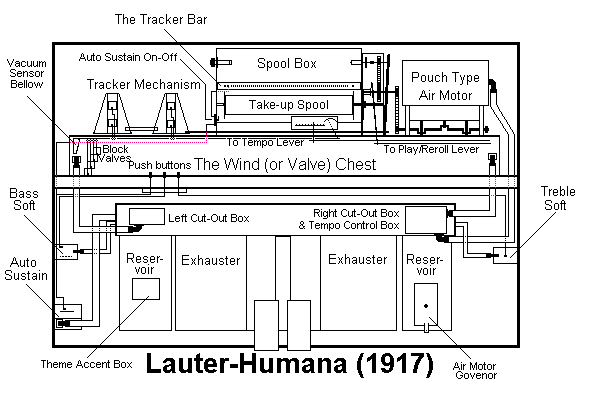 ---
Hi All, Have you ever tried to find out about something that is totally obscure and figured you'd never find an answer? Well, stop looking! Sooner or later "it" will find you.
For over twenty years I've wondered about a hole in the spool box of my Lauter-Humana player piano. It doesn't make any sense. There are no screw holes around it, no rub marks or shadows inside the hole, no evidence of anything ever being there.
Then two days ago I started a job on a 1917 Lauter-Humana and, low and behold, that hole had something in it. It looked like a fallboard knob.
I thought, "How strange", and then I pulled on it. It was pretty well stuck and I had to wiggle it a little to get it out. Attached to the other end of what IS a fallboard knob was a metal pin. I thought, "What's that for?" (See photograph.)
Well, I was busy evaluating the player and didn't really have time to ponder or play around trying to figure out what 'its' true function might be. Then today while removing the old tracker tubing here in the shop, I pulled the 'knob' out and examined it in the bright light.
Having just previously removed the back of the spool box and the two 'dust catchers' for the tracker mechanism (and the rather large tracker tubing between the dust catchers and the tracker bar), and having seen the 'ball' of dust directly 'behind' the tracker hole while removing the tubing, the "Poker's"(*) purpose became crystal clear. It was for breaking up the ball of paper dust that accumulated inside the brass portion of the tracker tube.
Naturally, this stimulated my next thought, "When did Lauter discover that they needed to add this 'Poker' thingy as in integral part of the spool box?" Well, frankly I don't really care about that. I'm happy just to have found out what the little hole is for.
Oh, by the way, the diameter of the pin is exactly the same size as the tracker holes, so it won't fit into the note holes (which are actually rectangular). That's a good thing! Had they made it small enough to fit into the note holes, someone would have poked a hole right through the lead tracker bar tubing. You see, the lead tubing starts bending as soon as it leaves the tracker bar.
For those who don't go look at the picture, the metal pin is 1-3/4" long, it's 0.086" in diameter, and it's glued into a 'glue-in' type fallboard knob.
* I gave it the name 'poker' because of what it does. It probably had some fancy-schmancy name like "Tracking Hole Cleaning Device" or "Dust-Buster". ;-)
(Kind of an anti-climactic story, but I enjoyed writing it.)
By the way, this 1917 Lauter-Humana, serial number 53,621, has a totally different Lauter stack. It's a three-tier job with glued-in fiber valve caps (exhaust) that are reddish-brown. It also uses a bleeding tracker system as opposed to the regular valved type with two sets of tracker bellows. Everything else about the player mechanism is like the common variety Lauter-Humana.
The frame of the piano is also different. Instead of seven back posts, it only has four. I have some pictures if anyone is interested. I'll probably create a web page specifically about the upper section of the player mechanism. I've never seen one before, and I've worked on over a hundred Lauter-Humana players and owned eight of them.
Musically,
John A. Tuttle
http://www.player-care.com/
Fri, 11 Aug 2000 16:32:04 -0400
---

20 March 2000, 14 August 2000