Forms of Shellac
by Craig Smith (080306 MMDigest)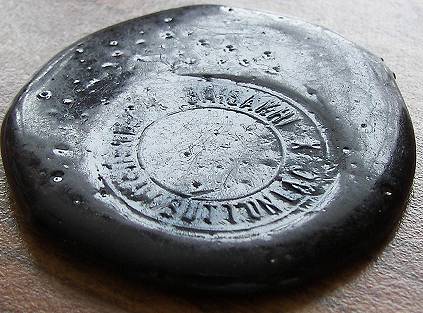 high resolution image (101 kb)
All this talk about shellac (and maybe the fumes) made me pull out my collection of shellac. I'll send a picture to the MMDigest Archives. It shows several types of shellac as it is processed. Starting with the 1/4" thick accumulation from a tree branch (sticklac) they pulverize it to get seedlac which looks like reddish sand. Other stages and grades are shown too.
It is often shipped in a convenient form called buttons for obvious reasons related to its shape. Take a chose look at the picture: you can clearly see it is actually stamped "BUTTONLAC" right on the button of shellac itself, along with the name of the maker.
Regards,
Craig Smith
05 Mar 2008 21:20:15 -0500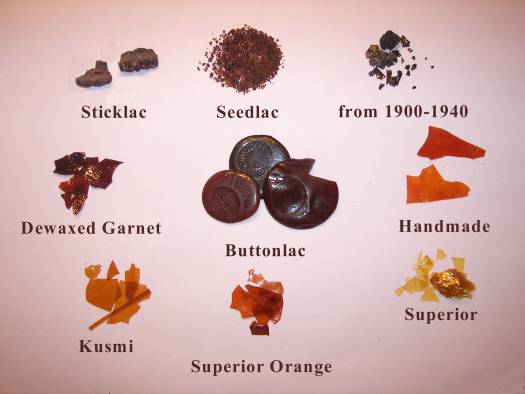 high resolution image (1,942 kb)
More information at the web site of the Shellac Export Promotion Council of India: http://www.shellacepc.com/history.html
---
Found at http://en.wikipedia.org/wiki/Lacquer : "Despite the similarities in their names, shellac and lacquer are not the same, and are not related. Shellac is an insect resin secreted by the Lac bug, which lives in India and Southeast Asia. Shellac's solvent is alcohol. Lacquer is based on cellulose nitrate (nitrocellulose) with resins added to make it less brittle, and nitrocellulose is made from wood pulp. Lacquer's solvent is lacquer thinner."
See also
http://en.wikipedia.org/wiki/Shellac
http://en.wikipedia.org/wiki/French_polish
---
6 March 2008