List of Reproduco Organ Rolls
Styles OS & NOS
compiled by Robbie Rhodes from data supplied by
Alan Brehaut, Ken Vinen, Frank Himpsl, Art Reblitz, Al Pebworth and William Chapman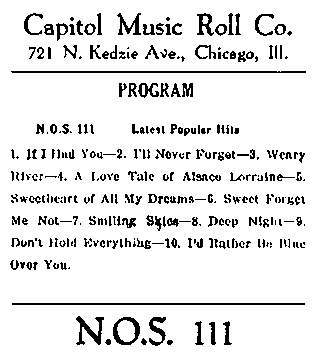 The Reproduco piano-organ was manufactured by Operator's Piano Co. of Chicago. Similar instruments were also made by Seeburg and Wurlitzer; they are unique because the organ spans 61 notes, unlike the short ranks of pipes in other coin operated mechanical musical instruments. In addition, the piano can independently be turned off to allow the organ to play a solo.
Music rolls for the Reproduco were provided by a sister firm, Columbia Music Roll Co. (later named Capitol Roll & Record Co.), which also made Supertone piano rolls. Columbia/Capitol also occasionally provided rolls sold by Automatic Music Rolls Co., a distribution subsidiary of Seeburg.


Data courtesy
  AB Alan Brehaut
  KV Ken Vinen
  FH Frank Himpsl
  AR Art Reblitz
  AP Al Pebworth
  WC William Chapman

ref	mfr-style	roll	nr	title	comment

AB	Auto NOS	49	0	AUTOMATIC MUSIC ROLL CO. NO. N.O.S. 49
AB	Auto NOS	49	0	WESTERN DRAMATIC MUSIC
AB	Auto NOS	49	1	Dance Of The Furies - Orpheus
AB	Auto NOS	49	2	Storm Hurry
AB	Auto NOS	49	3	Greed Op 30
AB	Auto NOS	49	4	Descriptive Agitato
AB	Auto NOS	49	5	Attack Shertzinger
AB	Auto NOS	49	6	Foreboding Sasini
AB	Auto NOS	49	7	Furious Enemies
AB	Auto NOS	49	8	Excitement Brief
AB	Auto NOS	49	9	Massacre Schertzinger
AB	Auto NOS	49	10	The Duel
AB	Auto NOS	49	11	Danger's Threat Op. 47

KV	CoCap NOS	1	0	Christmas Roll
KV	CoCap NOS	1	1	Silent Night
KV	CoCap NOS	1	2	Come All Ye Faithful
KV	CoCap NOS	1	3	Hark The Herald Angels Sing
KV	CoCap NOS	1	4	Little Town Of Bethlehem
KV	CoCap NOS	1	5	Star Of The East
KV	CoCap NOS	1	6	It Came Upon The Midnight Clear
KV	CoCap NOS	1	7	Birthday Of A King
KV	CoCap NOS	1	8	Bethlehem

AB	CoCap NOS	10	0	N.O.S. 10 Continuous
AB	CoCap NOS	10	1	Apple Blossoms
AB	CoCap NOS	10	2	La Golondrina
AB	CoCap NOS	10	3	Ave Maria, Gounod
AB	CoCap NOS	10	4	La Juive
AB	CoCap NOS	10	5	When First the Hevenly Grace
AB	CoCap NOS	10	6	La Traviata
AB	CoCap NOS	10	7	Dream of Love - Liszt
AB	CoCap NOS	10	8	Song of India
AB	CoCap NOS	10	9	Nocture, Op. 9 No. 2 Unfinished Symphony
AB	CoCap NOS	10	10	Elegy
AB	CoCap NOS	10	11	Berceuse New World Symphony
AB	CoCap NOS	10	12	Day In Venice - Dawn
AB	CoCap NOS	10	13	Gondoliers
AB	CoCap NOS	10	14	Venetian Love Song
AB	CoCap NOS	10	15	Good Night
AB	CoCap NOS	10	16	Love in Venice
AB	CoCap NOS	10	17	A Perfect Melody -- all by Nevine.

AP	CoCap NOS	19	0	Oriental Setting (continuous)
AP	CoCap NOS	19	1	Song of India
AP	CoCap NOS	19	2	Nuvida
AP	CoCap NOS	19	3	Olama
AP	CoCap NOS	19	4	Lulleta's Dance
AP	CoCap NOS	19	5	Plaintive
AP	CoCap NOS	19	6	Arabian Love Song
AP	CoCap NOS	19	7	Star of the Orient
AP	CoCap NOS	19	8	Oriental Love Song
AP	CoCap NOS	19	9	Moment Musicale
AP	CoCap NOS	19	10	Pale Moon

KV	CoCap NOS	21	0	Western Feature Roll - Heavy Dramatic (Continuous)
KV	CoCap NOS	21	1	The Chase
KV	CoCap NOS	21	2	Prelude To Western Drama
KV	CoCap NOS	21	3	The Red Skin
KV	CoCap NOS	21	4	Conspiracy
KV	CoCap NOS	21	5	Allegro Precipitoso
KV	CoCap NOS	21	6	Allegro Agitato
KV	CoCap NOS	21	7	Dashing Cowboy
KV	CoCap NOS	21	8	Galloping Furies
KV	CoCap NOS	21	9	Allegro Agitate
KV	CoCap NOS	21	10	Agitato
KV	CoCap NOS	21	11	Agitato
KV	CoCap NOS	21	12	Western Sketches
KV	CoCap NOS	21	13	Agitato

KV	CoCap NOS	23	0	Snappy Marches for News Reels etc.	
KV	CoCap NOS	23	1	General Pershing	March
KV	CoCap NOS	23	2	The Pitt Panther	
KV	CoCap NOS	23	3	March Triumphal	
KV	CoCap NOS	23	4	National Emblem
KV	CoCap NOS	23	5	The Invincible Eagle
KV	CoCap NOS	23	6	Old Faithful
KV	CoCap NOS	23	7	The Iron Division
KV	CoCap NOS	23	8	Blaze Away
KV	CoCap NOS	23	9	Miss Liberty
KV	CoCap NOS	23	10	Spirit of Independence
KV	CoCap NOS	23	11	The Potomac
KV	CoCap NOS	23	12	Soldiers Of The Sea.

AB	CoCap NOS	27	0	N.O.S.-27
AB	CoCap NOS	27	1	Because I Love You
AB	CoCap NOS	27	2	Calling Me Home
AB	CoCap NOS	27	3	That Night in Araby
AB	CoCap NOS	27	4	l'd Rather Be the Girl ln Your Arms
AB	CoCap NOS	27	5	When I'm In Your Arms
AB	CoCap NOS	27	6	Just a Little Longer
AB	CoCap NOS	27	7	Sunday
AB	CoCap NOS	27	8	There's a Little White House
AB	CoCap NOS	27	9	I'm On My Way Home
AB	CoCap NOS	27	10	Blame It On the Waltz
AB	CoCap NOS	27	11	Moonlight on the Ganges
AB	CoCap NOS	27	12	Don't Forget the Pal You Left at Home

AB	CoCap NOS	29	0	Matinee Special
AB	CoCap NOS	29	1	Nola
AB	CoCap NOS	29	2	Annie Rooney
AB	CoCap NOS	29	3	Comrades
AB	CoCap NOS	29	4	The Sidewalks of New York
AB	CoCap NOS	29	5	Are You the Reilly
AB	CoCap NOS	29	6	Dainty Miss
AB	CoCap NOS	29	7	The Mulberry Bush
AB	CoCap NOS	29	8	See-Saw
AB	CoCap NOS	29	9	Little Jack Horner
AB	CoCap NOS	29	10	Hi-Diddle-Diddle
AB	CoCap NOS	29	11	Baa! Baa! Black Sheep
AB	CoCap NOS	29	12	Little boy Blue
AB	CoCap NOS	29	13	Mary Had a Little Lamb
AB	CoCap NOS	29	14	Dickory Dock, 
AB	CoCap NOS	29	15	Humpty Dumpty
AB	CoCap NOS	29	16	Jack and Jill
AB	CoCap NOS	29	17	Three Blind Mice
AB	CoCap NOS	29	18	Bye Bye Baby Bunting.

FH	CoCap NOS	31	4	Naughty Marietta Selections (Ah, Sweet Mystery Of Life)

WC	CoCap NOS	32	0	NOS
WC	CoCap NOS	32	1	Mary Lou
WC	CoCap NOS	32	2	Susie's Feller
WC	CoCap NOS	32	3	Clap Yo' Hands
WC	CoCap NOS	32	4	Trying to Forget
WC	CoCap NOS	32	5	I'm Telling the Bees
WC	CoCap NOS	32	6	The Little White House at the End of the Honeymoon
WC	CoCap NOS	32	7	My Baby Knows How
WC	CoCap NOS	32	8	There Ain't No Maybe in my Baby's Eyes
WC	CoCap NOS	32	9	I've Lost My Dog
WC	CoCap NOS	32	10	It Made You Happy When You Made Me Cry
WC	CoCap NOS	32	11	How Could Red Riding Hood
WC	CoCap NOS	32	12	She's Still My Baby

KV	CoCap NOS	33	0	Beautiful Ballads, not too slow
KV	CoCap NOS	33	1	In A Little Spanish Town
KV	CoCap NOS	33	2	Waters Of The Perkiomen
KV	CoCap NOS	33	3	Tonight You Belong To Me
KV	CoCap NOS	33	4	Half A Moon
KV	CoCap NOS	33	5	Blue Skies
KV	CoCap NOS	33	6	At Peace With The World
KV	CoCap NOS	33	7	Here And There as Long
KV	CoCap NOS	33	8	When I First Met Mary
KV	CoCap NOS	33	9	Tell Me You Love Me
KV	CoCap NOS	33	10	Am I Wasting
KV	CoCap NOS	33	11	A Little Music
KV	CoCap NOS	33	12	I Don't Mind

WC	CoCap NOS	37	0	POPULAR DANCE TUNES [1-6]
WC	CoCap NOS	37	1	Lonely Eyes
WC	CoCap NOS	37	2	You're the One For Me
WC	CoCap NOS	37	3	Hello Swanee, Hello
WC	CoCap NOS	37	4	My Girl Has Eye Trouble
WC	CoCap NOS	37	5	When the Red, Red Robin
WC	CoCap NOS	37	6	So Will I
WC	CoCap NOS	37	7	High, High, High Up in the Hills
WC	CoCap NOS	37	8	Who'll Be the One
WC	CoCap NOS	37	9	Tell Me Tonight
WC	CoCap NOS	37	10	Who Do You Love
WC	CoCap NOS	37	11	I Never See Maggie Alone
WC	CoCap NOS	37	12	? De-D.-Lo

KV	CoCap NOS	38	0	The Finest of Marches
KV	CoCap NOS	38	1	American Patrol
KV	CoCap NOS	38	2	Stars And Stripes Forever
KV	CoCap NOS	38	3	Hands Across The Sea
KV	CoCap NOS	38	4	Our Director
KV	CoCap NOS	38	5	The Rainbow Division
KV	CoCap NOS	38	6	Entrance Of The Gladiators
KV	CoCap NOS	38	7	The Frat March
KV	CoCap NOS	38	8	The New Colonial March
KV	CoCap NOS	38	9	Lights Out
KV	CoCap NOS	38	10	Officer Of The Day
KV	CoCap NOS	38	11	El Capitan
KV	CoCap NOS	38	12	Repasz Band

AP	CoCap NOS	40	0	NOS 40 Capitol   (C) 1978 Play-Rite
AP	CoCap NOS	40	1	Maple Leaf Rag
AP	CoCap NOS	40	2	Devilish Rag
AP	CoCap NOS	40	3	12th Street Rag
AP	CoCap NOS	40	4	Crazy Bone Rag
AP	CoCap NOS	40	5	Delirium Tremens Rag
AP	CoCap NOS	40	6	Dramatic Agitato (Eigener)
AP	CoCap NOS	40	7	Stormy Conflict (?Damuur)
AP	CoCap NOS	40	8	Agitato - Hurry (Luz)
AP	CoCap NOS	40	9	Rodeo Love (Raymond)
AP	CoCap NOS	40	10	Western Intermezzo (Luz)
AP	CoCap NOS	40	11	The Chase (Egener)

KV	CoCap NOS	42	0	Dance Hits - Comedy Roll
KV	CoCap NOS	42	1	Ain't She Sweet
KV	CoCap NOS	42	2	Crazy Words
KV	CoCap NOS	42	3	Gonna Get A Girl
KV	CoCap NOS	42	4	Forgive Me
KV	CoCap NOS	42	5	Take In The Gun
KV	CoCap NOS	42	6	All I Want Is You
KV	CoCap NOS	42	7	That's A Good Girl
KV	CoCap NOS	42	8	Gotta Get Myself Somebody To Love
KV	CoCap NOS	42	9	Silver Song Bird
KV	CoCap NOS	42	10	My Baby's Back
KV	CoCap NOS	42	11	Nothing Else Matters Anymore
KV	CoCap NOS	42	12	I'm Looking Over a Four Leaf Clover

AB	CoCap NOS	44	0	FAVORITE HYMNS
AB	CoCap NOS	44	1	Whispering Hope
AB	CoCap NOS	44	2	In The Garden
AB	CoCap NOS	44	3	Safe In The Arms Of Jesus
AB	CoCap NOS	44	4	Beautiful Isle Of Somewhere
AB	CoCap NOS	44	5	Rock Of Ages
AB	CoCap NOS	44	6	Over The Stars There Is Rest
AB	CoCap NOS	44	7	Nearer, My God To Thee
AB	CoCap NOS	44	8	When They Ring the Golden Bells
AB	CoCap NOS	44	9	I Need Thee Every Hour
AB	CoCap NOS	44	10	Just As I Am
AB	CoCap NOS	44	11	What A Friend We Have In Jesus
AB	CoCap NOS	44	12	Let The Lower Lights Be Burning
AB	CoCap NOS	44	13	Abide With Me

KV	CoCap NOS	45	0	...
KV	CoCap NOS	45	1	What Does It Matter
KV	CoCap NOS	45	2	Along Miami Shore
KV	CoCap NOS	45	3	What Can I Do To Forget
KV	CoCap NOS	45	4	The Winding Trail
KV	CoCap NOS	45	5	Song Of The Wanderer
KV	CoCap NOS	45	6	Swanee River Trail
KV	CoCap NOS	45	7	Log Cabin Lullaby
KV	CoCap NOS	45	8	Nesting Time
KV	CoCap NOS	45	9	Put Your Arms Where They Belong
KV	CoCap NOS	45	10	On The Golden Shore
KV	CoCap NOS	45	11	Yesterday
KV	CoCap NOS	45	12	I'll Just Go

KV	CoCap NOS	46	0	War Scenes, Heavy Dramatic
KV	CoCap NOS	46	1	Bugle Calls and Marches

KV	CoCap NOS	47	0	Very Latest Dance Hits
WC	CoCap NOS	47	0	NOS  47A
WC	CoCap NOS	47	1	Yankee Rose	1s
WC	CoCap NOS	47	2	Hoosier Sweetheart	ft
WC	CoCap NOS	47	3	Moonbeam, Kiss Her For Me
WC	CoCap NOS	47	4	I Know That You Know
WC	CoCap NOS	47	5	There's Everything Nice About You	ft
WC	CoCap NOS	47	6	Somebody Said	ft

AP	CoCap NOS	50	0	Comedy (Speedy) Feature roll - Continuous
AP	CoCap NOS	50	0	NOS 50  Capitol
AP	CoCap NOS	50	1	Dizzy Fingers
AP	CoCap NOS	50	2	Smokey Mokes
AP	CoCap NOS	50	3	Grand Concert Rag
AP	CoCap NOS	50	4	Peace and Plenty Rag
AP	CoCap NOS	50	5	At a Georgia Campmeeting
AP	CoCap NOS	50	6	Silver Bell
AP	CoCap NOS	50	7	Solita
AP	CoCap NOS	50	8	Chatterbox Rag
AP	CoCap NOS	50	9	Black and White Rag
AP	CoCap NOS	50	10	Dixie Darlings
AP	CoCap NOS	50	11	Midnight Fire Alarm
AP	CoCap NOS	50	12	Meteor Rag
AP	CoCap NOS	50	13	Peerless Rider March

KV	CoCap NOS	51	0	...? Russian Folk Songs ?	
	
KV	CoCap NOS	53	0	Very Latest Popular Dance Hits (good for comedy)	
WC	CoCap NOS	53	7	So Blue	ft
WC	CoCap NOS	53	8	I Love You But I Don't Know Why	
WC	CoCap NOS	53	9	If You See Sally
WC	CoCap NOS	53	10	Oh, What a Pal Was Whoosis
WC	CoCap NOS	53	11	? Amorica Did It Again
WC	CoCap NOS	53	12	It All Depends on You

KV	CoCap NOS	54	0	Standard Concert Waltzes (Light Dramatic - Scenic)

KV	CoCap NOS	56	0	Most Popular Ballads (Dramatic)
KV	CoCap NOS	56	1	Falling In Love
KV	CoCap NOS	56	2	Russian Lullaby
KV	CoCap NOS	56	3	Who Are You Fooling Tonight
KV	CoCap NOS	56	4	At Sundown
KV	CoCap NOS	56	5	I'll Take Care Of Your Cares
KV	CoCap NOS	56	6	Lonely Nights In Hawaii
KV	CoCap NOS	56	7	Carolina Mine
KV	CoCap NOS	56	8	Underneath The Stars
KV	CoCap NOS	56	9	When You're In Love
KV	CoCap NOS	56	10	Just Wondering
KV	CoCap NOS	56	11	Dawn Of Tomorrow
KV	CoCap NOS	56	12	Down The Lane

KV	CoCap NOS	57	0	An all hit Review... cream from rolls formerly listed...
KV	CoCap NOS	57	1	Deep In My Heart
KV	CoCap NOS	57	2	Because I Love You
KV	CoCap NOS	57	3	Cherie, I Love You
KV	CoCap NOS	57	4	A Night Of Love
KV	CoCap NOS	57	5	I Love You
KV	CoCap NOS	57	6	Blame It On The Waltz
KV	CoCap NOS	57	7	My Dream Of Love
KV	CoCap NOS	57	8	My Heart Will Tell Me So
KV	CoCap NOS	57	9	Let The Rest Of The World
KV	CoCap NOS	57	10	Just For Remembrance
KV	CoCap NOS	57	11	Only A Rose
KV	CoCap NOS	57	12	Indian Love Call

WC	CoCap NOS	60	0	STANDARD CONCERT WALTZES [1-7]
WC	CoCap NOS	60	1	Poinsetta
WC	CoCap NOS	60	2	Cecile
WC	CoCap NOS	60	3	Remembrance
WC	CoCap NOS	60	4	The Sleeping Beauty Waltz
WC	CoCap NOS	60	5	Marsovia
WC	CoCap NOS	60	6	Voluptuense
WC	CoCap NOS	60	7	Valse Septembre - George Murphy

KV	CoCap NOS	61	0	Very Latest Popular Dance Hits
KV	CoCap NOS	61	1	Hallelujah
KV	CoCap NOS	61	2	Sweet Someone
KV	CoCap NOS	61	3	Hello, Cutie, Hello
KV	CoCap NOS	61	4	Shaking The Blues Away
KV	CoCap NOS	61	5	Do You Love Me When Skies
KV	CoCap NOS	61	6	Baby Feet Go Pitter Patter
KV	CoCap NOS	61	7	On A Dew, Dew, Dewy Day	What Do We Do
KV	CoCap NOS	61	8	Rosa Lee
KV	CoCap NOS	61	9	Highways Are Happy Ways
KV	CoCap NOS	61	10	No Wonder I'm Happy
KV	CoCap NOS	61	11	Gorgeous
KV	CoCap NOS	61	12	Bye-Bye, Pretty Baby

AB	CoCap NOS	63	0	CHINESE OR ORIENTAL SETTING
AB	CoCap NOS	63	1	In A Chinese Temple Garden
AB	CoCap NOS	63	2	Kai Chang Foo-Mandarine Dance
AB	CoCap NOS	63	3	Vision Of Salome, by Joyce
AB	CoCap NOS	63	4	Grandioso by.Fassio - Japanese
AB	CoCap NOS	63	5.1	Legend by Kempinski; 
AB	CoCap NOS	63	5.2	Le Serment by Franceschi,
AB	CoCap NOS	63	5.3	The Sun Dance by Friendman, 
AB	CoCap NOS	63	5.4	Siam by Fisher-
AB	CoCap NOS	63	5.5	Sunset Sketches by Kempinski - 
AB	CoCap NOS	63	5.6	Lonely Hours by Kempinski: 
AB	CoCap NOS	63	5.7	Marche Mysterieuse by Schad-
AB	CoCap NOS	63	5.8	Despair, by Kempinski
AB	CoCap NOS	63	6	Lamentation, by Borthiewiez

KV	CoCap NOS	64	0	(continuous)(10 tunes)
KV	CoCap NOS	64	1	I Love You Truly
KV	CoCap NOS	64	2	A Perfect Day
KV	CoCap NOS	64	3	Beauty In A Rose Garden
KV	CoCap NOS	64	4	Longing For Home
KV	CoCap NOS	64	5	Evening Song, From Tannhauser
KV	CoCap NOS	64	6	Absent
KV	CoCap NOS	64	7	Calm as the Night	Cap 9702
KV	CoCap NOS	64	8	Forever And Forever
WC	CoCap NOS	64	9	Confidence (Mendelssohn)
WC	CoCap NOS	64	10	The Rosary (Nevin)
WC	CoCap NOS	64	11	Andantino (Lamare)
WC	CoCap NOS	64	12	Meditation (Flagler)
	
KV	CoCap NOS	66	0	...	
KV	CoCap NOS	66	1	Charmaine
KV	CoCap NOS	66	2	Desert Song
KV	CoCap NOS	66	3	Somebody And Me
KV	CoCap NOS	66	4	Give Me A Night In June
KV	CoCap NOS	66	5	Rosy Cheeks
KV	CoCap NOS	66	6	Just Another Day Wasted Away
KV	CoCap NOS	66	7	Siren Dreams
KV	CoCap NOS	66	8	There's One Little Girl Who Loves Me
KV	CoCap NOS	66	9	Playground In The Sky
KV	CoCap NOS	66	10	Baby Your Mother
KV	CoCap NOS	66	11	Here Am I Broken Hearted
KV	CoCap NOS	66	12	Are You H

WC	CoCap NOS	69	0	NOS  69B
WC	CoCap NOS	69	7	Dawning
WC	CoCap NOS	69	8	Mr. Aeroplane Man
WC	CoCap NOS	69	9	An Old Guitar and an Old Refrain
WC	CoCap NOS	69	10	Just a Memory
WC	CoCap NOS	69	11	Lonely Melody
WC	CoCap NOS	69	12	Blue River

WC	CoCap NOS	70	0	? Spanish songs ?

KV	CoCap NOS	72	0	...	
KV	CoCap NOS	72	1	My Blue Heaven
KV	CoCap NOS	72	2	Together Me Two
KV	CoCap NOS	72	3	I Left My Sugar Out
KV	CoCap NOS	72	4	Ain't That A Grand	and Glorious Feeling?
KV	CoCap NOS	72	5	Ting A Ling
KV	CoCap NOS	72	6	Lonely L? A Cr8md	????
KV	CoCap NOS	72	7	When The Morning Glories
KV	CoCap NOS	72	8	Among My Souvenirs
KV	CoCap NOS	72	9	It Was Only A Sunshower
KV	CoCap NOS	72	10	I Walked Back
KV	CoCap NOS	72	11	Some Day Sweetheart
KV	CoCap NOS	72	12	Blame It On The Two Black

KV	CoCap NOS	74	0	...
KV	CoCap NOS	74	1	Did You Mean It
KV	CoCap NOS	74	2	What'll We Me Do	???
KV	CoCap NOS	74	3	Mary 
KV	CoCap NOS	74	4	Some Day You'll Say O.K.
KV	CoCap NOS	74	5	Are You Thinking Of Me Tonight?
KV	CoCap NOS	74	6	Sixty Seconds, Every Minute
KV	CoCap NOS	74	7	Cheerie Beerie Bee
KV	CoCap NOS	74	8	A Shady Tree
KV	CoCap NOS	74	9	There's A Trick In Pickin A Chick Chick Chicken
KV	CoCap NOS	74	10	Maybe I Will
KV	CoCap NOS	74	11	The Girl Is You
KV	CoCap NOS	74	12	Rio Rita

AP	CoCap NOS	75	0	Continuous Comedy Special
AP	CoCap NOS	75	0	NOS 75  Play-Rite
AP	CoCap NOS	75	1	Cute and Pretty
AP	CoCap NOS	75	2	Harry Fox Rag
AP	CoCap NOS	75	3	Come On Along
AP	CoCap NOS	75	4	Pahjamah
AP	CoCap NOS	75	5	Rockin' the Boat
AP	CoCap NOS	75	6	Baltimore Blues
AP	CoCap NOS	75	7	Pretty Polly
AP	CoCap NOS	75	8	Cry Baby

KV	CoCap NOS	76	0	...
KV	CoCap NOS	76	1	Our Bungalow Of Dreams
KV	CoCap NOS	76	2	My Ohio Home
KV	CoCap NOS	76	3	Kiss And Make Up
KV	CoCap NOS	76	4	Please Tell My
KV	CoCap NOS	76	5	Chloe
KV	CoCap NOS	76	6	Persian Rug
KV	CoCap NOS	76	7	Eyes That Love
KV	CoCap NOS	76	8	Dream Kisses
KV	CoCap NOS	76	9	My Melancholy Baby
KV	CoCap NOS	76	10	Diane
KV	CoCap NOS	76	11	Everywhere You Go
KV	CoCap NOS	76	12	Everybody Loves My Girl.

WC	CoCap NOS	77	0	Light Dramatic  77A
WC	CoCap NOS	77	1	Calm as the Night	Cap 9702
WC	CoCap NOS	77	2	Love Sends a Little Gift of Roses
WC	CoCap NOS	77	3	I Hear You Calling Me
WC	CoCap NOS	77	4	Just a Wearyin' For You
WC	CoCap NOS	77	5	At Dawning
WC	CoCap NOS	77	6	The Loreley

KV	CoCap NOS	78	0	...
KV	CoCap NOS	78	1	Sweetheart Of Sigma Chi
KV	CoCap NOS	78	2	I'll Think Of You
KV	CoCap NOS	78	3	One Alone
KV	CoCap NOS	78	4	Four Malls
KV	CoCap NOS	78	5	There's No End To My Love For You
KV	CoCap NOS	78	6	That Melody Of Love
KV	CoCap NOS	78	7	Faded Love Letters
KV	CoCap NOS	78	8	Saxophone Waltz
KV	CoCap NOS	78	9	Whisper That You Love Me

WC	CoCap NOS	83	0	SNAPPY HITS
WC	CoCap NOS	83	1	What Do You Say
WC	CoCap NOS	83	2	I Don't Believe You
WC	CoCap NOS	83	3	Is She My Girl Friend
WC	CoCap NOS	83	4	After My Laughter Came Tears
WC	CoCap NOS	83	5	Wobbly Walk
WC	CoCap NOS	83	6	All My Life
WC	CoCap NOS	83	7	Sh, Here Comes My Sugar
WC	CoCap NOS	83	8	Sunshine
WC	CoCap NOS	83	9	Let a Smile Be your Umbrella
WC	CoCap NOS	83	10	For My Baby
WC	CoCap NOS	83	11	I'm Wonderin' Who	Who? ...
WC	CoCap NOS	83	12	I Fell Head Over Heels in Love

AB	CoCap NOS	85	0	Very Latest Popular Ballads
AB	CoCap NOS	85	1	Beloved
AB	CoCap NOS	85	2	Little Log Cabin Of Dreams
AB	CoCap NOS	85	3	Across The Bridge Of Dreams
AB	CoCap NOS	85	4	Ramona
AB	CoCap NOS	85	5	When You Played The Organ
AB	CoCap NOS	85	6	Girl Of My Dreams
AB	CoCap NOS	85	7	My Heart Stood Still
AB	CoCap NOS	85	8	Together
AB	CoCap NOS	85	9	I'm Making Believe That I Don't Care

KV	CoCap NOS	105	0	...
KV	CoCap NOS	105	1	Doin' The Raccoon
KV	CoCap NOS	105	2	Who Wouldn't Be Jealous Of You
KV	CoCap NOS	105	3	That's How I Feel About You, Sweetheart
KV	CoCap NOS	105	4	You're The Cream In My Coffee
KV	CoCap NOS	105	5	Don't Be Like That
KV	CoCap NOS	105	6	I Must Love That Man
KV	CoCap NOS	105	7	You Took Advantage Of Me
KV	CoCap NOS	105	8	One Step To Heaven
KV	CoCap NOS	105	9	Pompanola
KV	CoCap NOS	105	10	I Wanna Be Loved By You

AB	CoCap NOS	111	0	Latest Popular Hits
AB	CoCap NOS	111	1	If I Had You
AB	CoCap NOS	111	2	I'll Never Forget
AB	CoCap NOS	111	3	Weary River
AB	CoCap NOS	111	4	A Love Tale of Alsace Lorraine
AB	CoCap NOS	111	5	Sweetheart of All My Dreams
AB	CoCap NOS	111	6	Sweet Forget Me Not
AB	CoCap NOS	111	7	Smiling Skies
AB	CoCap NOS	111	8	Deep Night
AB	CoCap NOS	111	9	Don't Hold Everything
AB	CoCap NOS	111	10	I'd Rather Be Blue Over You

KV	CoCap NOS	123	0	...
KV	CoCap NOS	123	1	The Rosary
KV	CoCap NOS	123	2	Jesus, Lover Of My Soul
KV	CoCap NOS	123	3	O Rest In The Lord
KV	CoCap NOS	123	4	Saved By Grace
KV	CoCap NOS	123	5	Face To Face

KV	CoCap NOS	124	0	...
KV	CoCap NOS	124	1	Safe In The Arms Of Jesus
KV	CoCap NOS	124	2	Rock Of Ages
KV	CoCap NOS	124	3	Nearer, My God, To Thee
KV	CoCap NOS	124	4	Abide With Me
KV	CoCap NOS	124	5	Lead, Kindly Light,

KV	CoCap NOS	125	0	...
KV	CoCap NOS	125	1	The Old Rugged Cross
KV	CoCap NOS	125	2	My Jesus, As Thou Wilt
KV	CoCap NOS	125	3	For All The Saints
KV	CoCap NOS	125	4	No Night There
KV	CoCap NOS	125	5	God Be With You Till Me Meet Again.

KV	CoCap NOS	126	0	...
KV	CoCap NOS	126	1	When They Ring The Golden Bells
KV	CoCap NOS	126	2	In The Cross Of Christ I Glory
KV	CoCap NOS	126	3	The City Four Square
KV	CoCap NOS	126	4	It Is Well With My Soul
KV	CoCap NOS	126	5	Asleep In Jesus

KV	CoCap NOS	127	0	...
KV	CoCap NOS	127	1	Communion In G
KV	CoCap NOS	127	2	Large
KV	CoCap NOS	127	3	A Perfect Day
KV	CoCap NOS	127	4	The Rosary
KV	CoCap NOS	127	5	Confidence (Mendelssohn)


KV	CoCap OS	117	0	...
KV	CoCap OS	117	1	Mammy's Lullaby
KV	CoCap OS	117	2	I'm Forever Blowing Bubbles
KV	CoCap OS	117	3	Every Tear Is A Smile In An Irishman's Heart
KV	CoCap OS	117	4	Sometime It Will Be Lovetime
KV	CoCap OS	117	5	Carmena Waltz
KV	CoCap OS	117	6	Someday Waiting Will End
KV	CoCap OS	117	7	Tennessee, I'm Coming Back To Tennessee
KV	CoCap OS	117	8	Kisses, Fox-Trot

KV	CoCap OS	186	0	...
KV	CoCap OS	186	1	Last Night On The Back Porch
KV	CoCap OS	186	2	Mean Mean Mama
KV	CoCap OS	186	3	Just A Girl That Men Forget
KV	CoCap OS	186	4	Long Lost Mama
KV	CoCap OS	186	5	Lonesome And Blue
KV	CoCap OS	186	6	Lou'siana
KV	CoCap OS	186	7	Sunshine Of Mine
KV	CoCap OS	186	8	Steal A Little Kiss While Dancing

AB	CoCap OS	188	0	...
AB	CoCap OS	188	1	Last Night on the Back Porch
AB	CoCap OS	188	2	Mean Mean Mama
AB	CoCap OS	188	3	Just a Girl That Men Forget (w)
AB	CoCap OS	188	4	Lost Lost Mama
AB	CoCap OS	188	5	Lonesome and Blue (w)
AB	CoCap OS	188	6	Lou'siana
AB	CoCap OS	188	7	Sunshine of Mine
AB	CoCap OS	188	8	Steal a Little Kiss While Dancing	waltz

WC	CoCap OS	196	0	MARCH PROGRAM [1-3] 196A
WC	CoCap OS	196	1	Our Director
WC	CoCap OS	196	2	Rotary March
WC	CoCap OS	196	3	Under the Double Eagle

KV	CoCap OS	201	0	...
KV	CoCap OS	201	1	Witches Dance
KV	CoCap OS	201	2	The Two Larks
KV	CoCap OS	201	3	Scarf Dance
KV	CoCap OS	201	4	The Swan
KV	CoCap OS	201	5	Lullaby From Erminie
KV	CoCap OS	201	6	Absent

KV	CoCap OS	218	0	Hurry - for Races & Comedy, Etc.
KV	CoCap OS	218	1.1	(A) Torch Dance 
KV	CoCap OS	218	1.2	(B) Dance Of The Demons
KV	CoCap OS	218	2	Marches For Use In Races, News Reels, Etc.
KV	CoCap OS	218	2.1	(A) The Storm King
KV	CoCap OS	218	2.2	(B) Paul Revere's Ride
KV	CoCap OS	218	2.3	(C) The Drum Major

FH	CoCap OS	235	2	Frat March

KV	CoCap OS	238	0	Dramatic Pathos - Especially fine for War Pathos
KV	CoCap OS	238	0	Dramatic Pathos - Especially fine for War Pathos
KV	CoCap OS	238	1.1	(A) Keep The Home Fires Burning
KV	CoCap OS	238	1.2	(B) The Rose Of No Man's Land
KV	CoCap OS	238	2.1	(A) On The Banks Of The Wabash
KV	CoCap OS	238	2.2	(B) In The Baggage Coach Ahead
KV	CoCap OS	238	2.2	(C) Break The News To Mother
KV	CoCap OS	238	2.3	(C) Tell Mother I'll Be There


FH	CoCap OS	245	1	Naughty Marietta Extracts (Ah, Sweet Mystery Of Life)

KV	CoCap OS	262	0	...
KV	CoCap OS	262	1	If You Knew Susie
KV	CoCap OS	262	2	Because of You
KV	CoCap OS	262	3	Yes Sir, That's My Baby
KV	CoCap OS	262	4	Collegiate
KV	CoCap OS	262	5	I've Got the Blues For Tennessee
KV	CoCap OS	262	6	Let Me Linger Longer In Your Arm
KV	CoCap OS	262	7	Isn't She the Sweetest Thing
KV	CoCap OS	262	8	Birth of the Blues

AB	CoCap OS	276	0	Light Dramatic	Capitol
AB	CoCap OS	276	1	Pale Moon (Indian Love Song)
AB	CoCap OS	276	2	Nocturne (Curran)	
AB	CoCap OS	276	3	Valse Serenade (Boldini)
AB	CoCap OS	276	4	Serenade (Titl)
AB	CoCap OS	276	5	Impromptu (Confrey)

KV	CoCap OS	283	0	...
KV	CoCap OS	283	1	Sweet Man
KV	CoCap OS	283	2	Bam Bam Bamy Shore
KV	CoCap OS	283	3	Mighty Blue
KV	CoCap OS	283	4	Siberia
KV	CoCap OS	283	5	Let's Wander Away
KV	CoCap OS	283	6	If You Hadn't Gone Away
KV	CoCap OS	283	7	If I Had A Girl Like You
KV	CoCap OS	283	8	What Could Be Sweeter Than You

WC	CoCap OS	289	0	SNAPPY MARCHES [1-3] 289A 
WC	CoCap OS	289	1	Spirit of Independence
WC	CoCap OS	289	2	Miss Liberty
WC	CoCap OS	289	3	General Pershing March

AB	CoCap OS	291	0	Latest Popular Dance Hits Capitol
AB	CoCap OS	291	1	She's Got 'Em
AB	CoCap OS	291	2	That's My Girl
AB	CoCap OS	291	3	Loud Speakin' Papa
AB	CoCap OS	291	4	One Night Like This
AB	CoCap OS	291	5	Original Charleston Strut
AB	CoCap OS	291	6	Got No Time	(rec'd Jane Green)
AB	CoCap OS	291	7	How Come You Do Me Like You Do
AB	CoCap OS	291	8	Honey, I'm In Love With You

KV	CoCap OS	294	0	Little Annie Rooney Feature Roll Continuous
KV	CoCap OS	294	1	Annie Rooney
KV	CoCap OS	294	2	Are You The O'Reilly
KV	CoCap OS	294	3	Comrades
KV	CoCap OS	294	4	The Ship I Love
KV	CoCap OS	294	5	The Sidewalks Of New York

KV	CoCap OS	314	0	...
KV	CoCap OS	314	1	Smiles
KV	CoCap OS	314	2	Then I'll Be Happy
KV	CoCap OS	314	3	Smile A Little Bit
KV	CoCap OS	314	4	Just Around The Corner
KV	CoCap OS	314	5	Just A Bundle Of Sunshine

AB	CoCap OS	316	0	...
FH	CoCap OS	316	2	Invincible Eagle March
FH	CoCap OS	316	5	Blaze Away

FH	CoCap OS	317	0
FH	CoCap OS	317	1	No More Liquor For Me
FH	CoCap OS	317	2	Tenderly
FH	CoCap OS	317	3	Show That Fellow The Door
WC	CoCap OS	317	4	Hi Diddle Diddle
FH	CoCap OS	317	5	Somebody's Lonely
FH	CoCap OS	317	6	My Pal Jerry
FH	CoCap OS	317	7	In My Gondola
FH	CoCap OS	317	8	A Cup of Coffee, A Sandwich, and You

AP	CoCap OS	320	0	OS-320  Play-Rite
AP	CoCap OS	320	1	Bye Bye Blackbird
AP	CoCap OS	320	2	At Pease With the World [sic]
AP	CoCap OS	320	3	Say It Again
AP	CoCap OS	320	4	Take This Rose
AP	CoCap OS	320	5	I'd Climb the Highest Mountain

KV	CoCap OS	323	0	Hungarian Folk Songs
KV	CoCap OS	323	1	Osszel Arra Ebredunk
KV	CoCap OS	323	2	Egy Dal, Egy Csok, Egy Uzenet
KV	CoCap OS	323	3	Miert Kell Szeretni Miert
KV	CoCap OS	323	4	Elment
KV	CoCap OS	323	5	Valakire Regen Varok En
KV	CoCap OS	323	6	Csakmeg Egy Tavasz Ebbredne A Szivemben

KV	CoCap OS	328	0	Latest Song Hits
KV	CoCap OS	328	1	Talking To The Moon
KV	CoCap OS	328	2	Valencia
KV	CoCap OS	328	3	Just A Little Dance
KV	CoCap OS	328	4	In A Little Garden.
KV	CoCap OS	328	5	Sandman Lullaby
KV	CoCap OS	328	6	Roses
KV	CoCap OS	328	7	Do You Believe In Dreams
KV	CoCap OS	328	8	Sweet Southern Breeze

KV	CoCap OS	329	0	...
KV	CoCap OS	329	1	Burgundy
KV	CoCap OS	329	2	How Many Times?
KV	CoCap OS	329	3	Her Beams Are Only Rainbows
KV	CoCap OS	329	4	Mary Lou
KV	CoCap OS	329	5	Only You And Lonely Me
KV	CoCap OS	329	6	Roses Remind Me Of You
KV	CoCap OS	329	7	Hello Aloha, How Are You?
KV	CoCap OS	329	8	Sad Eyes.


WC	CoCap OS	336	0	FAVORITE BALLADS
WC	CoCap OS	336	1	Only A Rose
WC	CoCap OS	336	2	Indian Love Call
WC	CoCap OS	336	3	Just a Cottage Small
WC	CoCap OS	336	4	Prisoner Song
WC	CoCap OS	336	5	Rose Marie
WC	CoCap OS	336	6	I'm Always Chasing Rainbows

WC	CoCap OS	9702		Calm As the Night	(small box)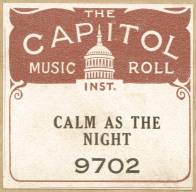 ---
Songs recorded circa 1968 by Concert Recording Company of Lynwood, Calif., for LP sold by Hathaway & Bowers, Inc., played on a Reproduco restored by Harvey and Marion Roehl. The exact OS/NOS roll numbers are unknown. All the songs were originally issued as 88-note rolls in June and July of 1926. They were published as these LP records:

Bar Room and Theatre Gems of the 1920's - Vestal Press Favorites, Volume 1
Concert Recording CR-M054

Side One - Seeburg E with reiterating xylophone:
        1. My Cutie's Due at Two to Two
        2. When You're Smiling
        3. Somebody Stole My Gal
        4. Now's the Time to Fall in Love
        5. Shine on Harvest Moon
        6. Stars and Stripes Forever
        7. I Can't Give You Anything but Love Baby
        8. You Took Advantage of Me
        9. I'm the Happiest Guy in the World
 
Side Two - Reproduco
        1. Invincible Eagle March [wrong, actually "The Pitt March"]
        2. A Cup of Coffee, a Sandwich, and You
        3. At Dawning
        4. No More Liquor for Me
        5. Ah Sweet Mystery of Life
        6. Frat March

Soothing Rhythm! - Theatre Music! - "The Mechanical Music Hall of Fame - Series 2"
Concert Recording CR-M104

Side One - Hupfeld Helios Ic/31
        1. The Artist [I think this is actually Circus Renz]
        2. "Can Can" from Orpheus in the Underworld
        3. Third Man Theme
        4. Medleys of 1910
 
Side Two - Reproduco
        1. Blaze Away March
        2. Tenderly
        3. Show That Fellow the Door
        4. Somebody's Lonely
        5. My Pal Jerry
        6. At Sundown
        7. In My Gondola

---
14 August 2003, 15 December 2003