A Short History of the Welte-Mignon in USA:
the "Licensee" system
compiled by Robbie Rhodes

"There was never any consistency in the names for the
Welte-Mignon instruments, nor for the firm." -- Chas. D. Smith
The United States entered the Great War in Europe on April 6, 1917. Edwin Welte already was trapped in Germany and serving in the Germany army. Under the International Emergency Economic Powers Act of 1916 (the "Alien Property Custody Act"), the assets of M. Welte & Sons, Inc., were seized by the U.S. government. An alliance was forced upon M. Welte & Sons, Inc., with Auto Pneumatic Action Company, a division of Kohler Industries, a giant corporation who also owned Kohler & Campbell Piano Co.
Critical patents held by Edwin Welte were licensed to Kohler, and the result was a new "Licensee" version of the Welte-Mignon system, manufactured by Auto Pneumatic Action Company, which played 11-1/4" wide music rolls and so could also play standard 88-note rolls. The "Licensee" player was purchased by many different piano makers for installation in their own piano brands. An early Auto Pneumatic advert is below -- later ads always mentioned "Licensee".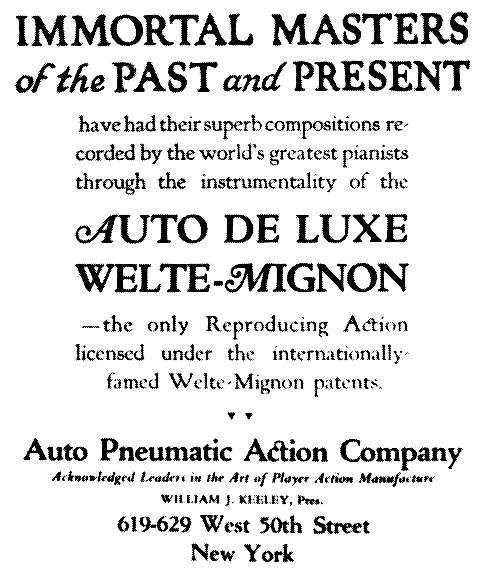 Although the German Welte firm in Freiburg was slow to respond to the demand for pop music rolls, all the American firms recognized that wealthy customers who espoused an interest in classical music also wanted to play popular music to impress guests in their homes. From 1916 to 1919 the Welte factory in Poughkeepsie, New York, produced 11.25-inch wide Welte-Mignon music rolls for the new Auto De Luxe Welte-Mignon or "Licensee" system. These rolls became known by collectors as Welte "Black Box:" or "Poughkeepsie" issues.
[index]

---

Compilation copyright 2002 by Robbie Rhodes and Mechanical Music Digest
rev. 02 November 2002