John McClelland's
1913 Mason & Hamlin Welte-Mignon Reproducing Piano
photos by Robbie Rhodes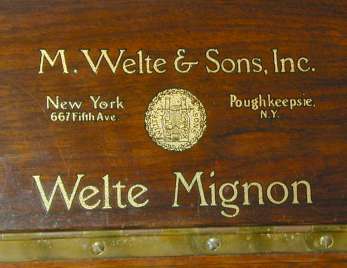 This decal is visible when the key cover is raised
so that the keys may be played by a real pianist.
These photos show John McClelland's nice Mason & Hamlin piano with a Welte-Mignon player system installed at the M. Welte & Sons factory in Poughkeepsie, New York. The piano serial number is "Op W966", and the Mason & Hamlin records indicate that serial number 966 was built in 1913.
The Mason & Hamlin factory supplied the piano to Welte in a special case, so that extra depth (about 20 cm, or 8 inches) was available for the player system components. The case measures :
height: 147 cm (57.88 inches)
width: 167 cm (65.75 inches)
depth : 81 cm (31.9 inches)
Yes, it's a big piano! Sometimes a door frame must be disassembled so that the piano can move through. And of course it weighs much more than the weight of an ordinary vertical piano. The piano movers groan.
John says that the player system was installed in Poughkeepsie, New York. It is a "transistional" system, meaning that some of the components were built in Poughkeepsie while other components came to New York from the Welte factory in Freiburg, Baden, Germany.
At the top right corner of the cast iron plate can be seen" "Mason & Hamlin Boston, U.S.A." This is the only place where "Mason & Hamlin" is shown.
In the photo below, at the right of the spool frame, a modern electric motor has been installed where a pneumatic airmotor normally would be. That's the only change in John's piano; everything else is restored like it was in 1913.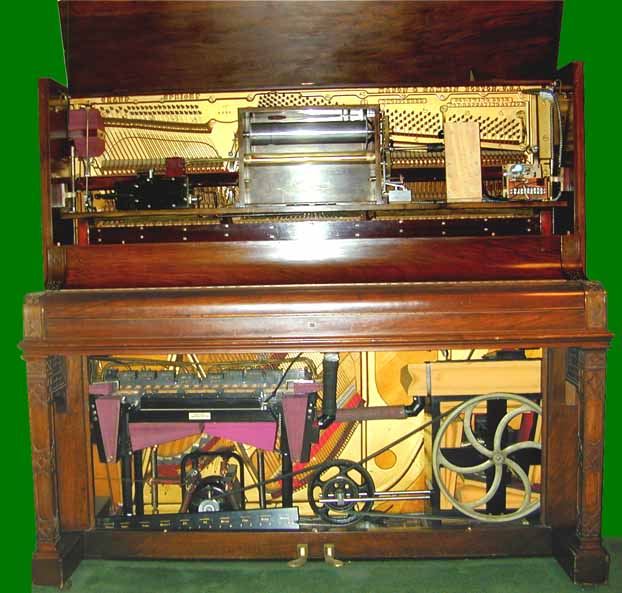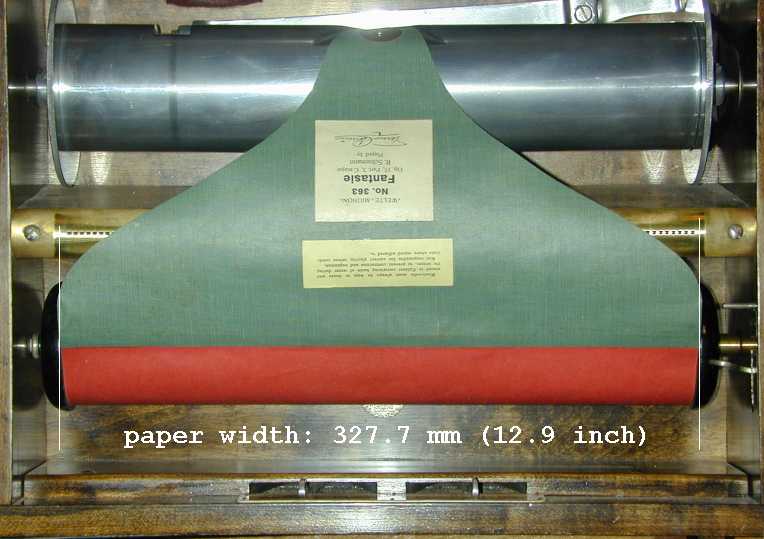 The leader is of sturdy green paper, which protects the thin red paper bearing the music.
The brass tracker bar has 100 holes spaced exactly 3.1816 millimeters.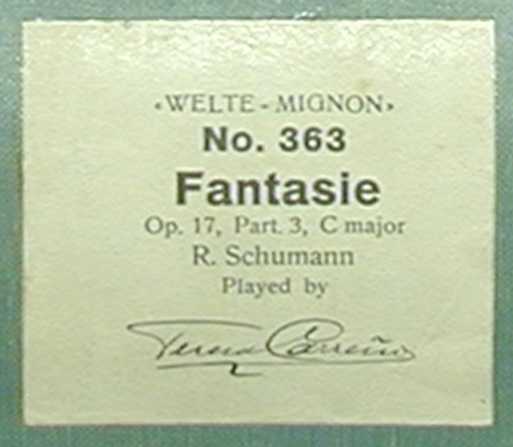 The appearance of this label is typical of
Welte-Mignon rolls produced in Freiburg.
---
10 August 2002