Barrel Piano by E. Mazzoletti of Belgium
by Björn Isebaert (MMD 020131)
and Walter Tenten (MMD 020130)
Last week I visited a dealer of old furniture not far away from my place. What struck my eyes was a sort of cabinet with a cranking handle on its side. The owner told me that this was a cranking organ and he considered it as a decoration for his shop. Nevertheless he had affixed a label with a very astronomic price.
When I investigated the device I discovered a clockwork driven big wooden pinned barrel controlling a piano action and a drum. The device was in a desolate state and the music produced sounded terrible. The only indication of a manufacturer I found was on the handle which selected one tune out of ten. It read "E MAZZOLETTI".
Back at home I investigated my literature for details about this brand. In Alexander Buchner's 1992 book, "Mechanische Musikinstrumente", I found one picture with a device similar to the one I had touched just one hour ago. The explanation read: "Pianino mit Spielwalze belgischer Produktion, Marke Mazoletti..."
Apart from the fact that Buchner misspelled the name, is there any reader who knows more about this manufacturer and his instruments?
Best regards from Linnich (Germany)
Walter Tenten
30 Jan 2002 11:50:56 +0100
---
Walter Tenten asked in MMD 020130 about the firm Mazzoletti in Belgium. This Italian immigrant founded a small business in 1898 of (automatic) pianos and orchestrions (or rather called 'tingel-tangels' in Brussels).
From 1910 till about 1914, his shop and workshop were established at the Place Royale at Schaarbeek. Some of his instruments had xylophones, percussion and electrical lamps, although the most common type of instruments built by Mazzoletti were the barrel pianos with a mirror decoration on the front side, probably like the one Walter Tenten saw. These instruments were well-made and they're still quite common. ('Common' is relative, of course, but I've seen three in antique shops in Gent the last five years).
Antique dealers often ask high prices for these instruments, since apparently a lot of people buy these instruments as a decoration, not as a mechanical music instrument. If I'm not mistaken, there's also a Mazzoletti barrel piano at the Thursford Collection in GB.
Attached are two small adverts of E. Mazzoletti, taken with permission from the author from the catalogue:
- S.Godfroid, Bouwers van automatofonen in Vlaanderen. Proeve van catalogus
(In: Volksmuziekatelier, Jaarboek V, Provinciaal Trefcentrum Baljuwhuis)
[Builders of automatic musical instruments in Flanders; preliminary catalogue,
(In: Folk music workshop, Yearbook V, Provincial Meeting Centre "Baljuwhuis")],
Galmaarden, 1987, copyright by Stéphane Godfroid, published by Provinciaal Trefcentrum
"Baljuwhuis" Galmaarden [Provincial Meeting Centre "Baljuwhuis"], Galmaarden, Belgium
Best wishes,
Björn Isebaert
Gent, Belgium
http://www.hooghuys.org/
31 Jan 2002 17:01:47 +0100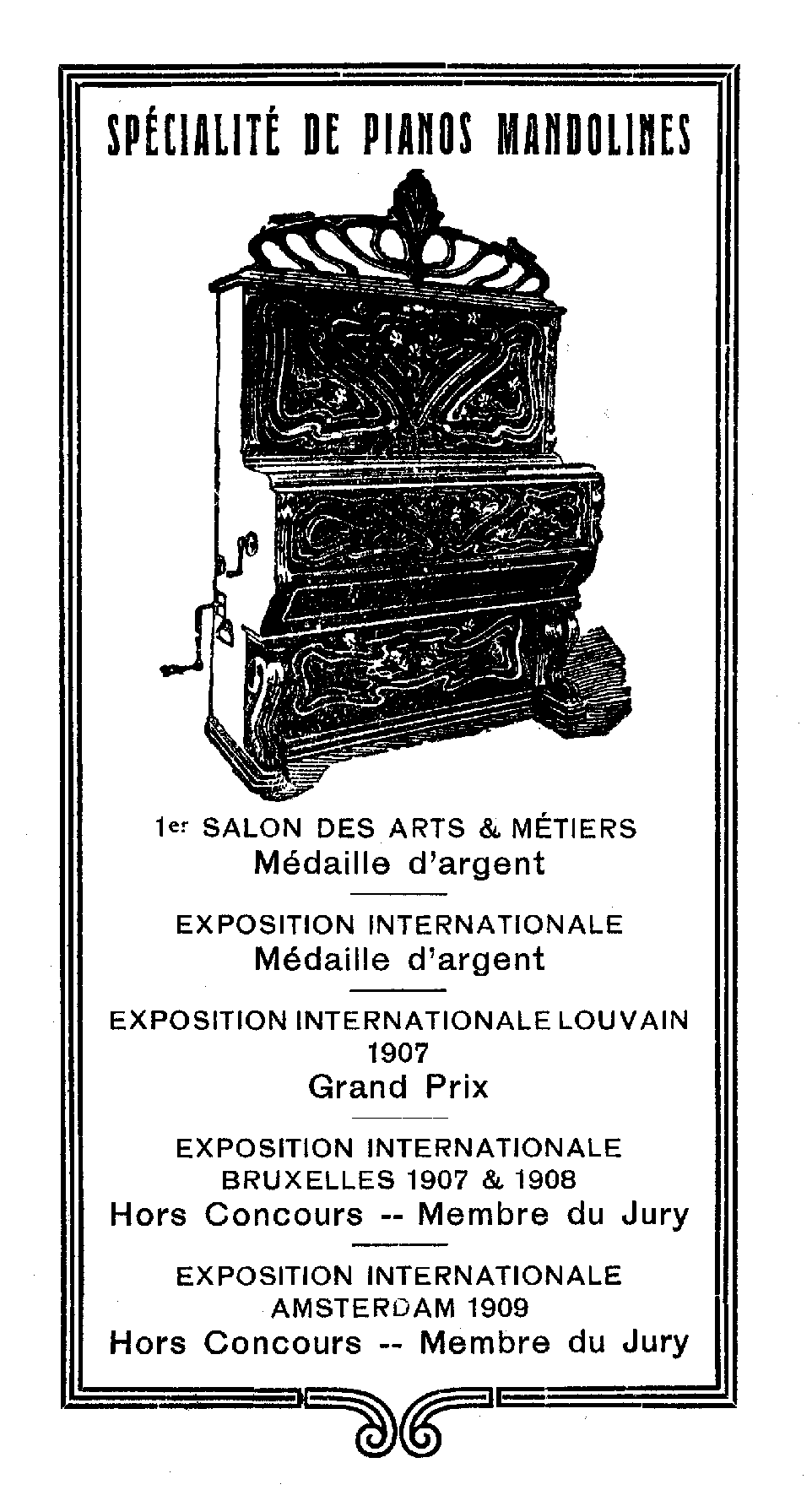 ---
31 January 2002