"Mécanophone" French Air Horn Calliope
by Philippe Rouillé (991230 MMDigest)
photos courtesy Han van Oost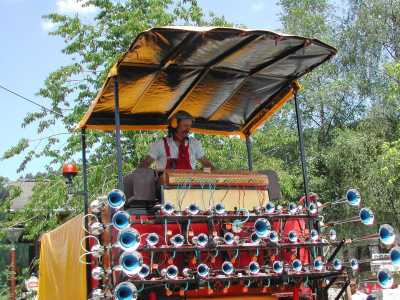 Dear MMDs, If you watch your TV tomorrow, you will certainly get images from everywhere in the world showing how every nation celebrates the new year (millennium ?).
If you look closely at what will be happening in Paris, you will notice on the famous Avenue des Champs Elysees about a dozen large fairground Ferris wheels, the largest one (about 200 feet high, very impressive) being on the Place de la Concorde. (Remember Leslie Caron dancing in the night, near the lighted fountains?) The others will be all along the avenue, with orchestras and dancers, usually very modern and noisy (cf. Antheil's Ballet mécanique !).
The last one, near the Place de l'Etoile, is rather simple, but in front of the wheel, facing the Arc de Triomphe, on a platform about 20 feet above the ground, has been placed an old yellow truck (a 1935 Citroën, I think) and on each side and of top of the cabin are fixed 42 large chromium-plated truck horns. And this impressive instrument is managed through an 42 keys mechanical organ (from an Odin organ, I think), and plays (thanks to compressed air) with books of music!
Claude Reboul, the player and proud owner (he calls it his mécanophone, a mécano being the man who repairs cars and trucks), is a professional organ grinder. (He usually plays a more traditional mechanical organ in front of our Museum of Modern Art, The Beaubourg Centre Pompidou.) Tonight he was turning the handle for the rehearsal of the great feast. He was standing in some kind of small open cabin with a roof, just behind the truck driver's cabin.
I was able to listen to "Rock around the clock", "In the Mood", and "the Fire Dance" of Manuel de Falla (which he announced on a microphone as "the Spring, by Vivaldi"! (I supposed at this late hour he was mixing the books of music...) A very noisy machine indeed, but playing quite all right, with a good balance of the bass notes and the treble notes, some books having been perforated, if I am not mistaken, by one of our best noteurs in France, Pierre Charial.
It was cold and raining, but everybody was listening to that machine with a large smile, as an exemplary mixture of a production by an almost defunct XXth century, and announcing what could be mechanical music in the XXIst century !
So this kind of "calliope" will certainly be seen and heard by millions of people tomorrow, if they watch their TV, and if the men behind the TV cameras do their job properly.
(Sorry, Robbie, I didn't have my camera, otherwise I could have sent you a photo for the MMD web site, that you and Jody manage so well).
Best regards from Paris, and a very happy new year !
Philippe Rouille
Paris, France
31 Dec 1999 01:13:21 +0100 (MET)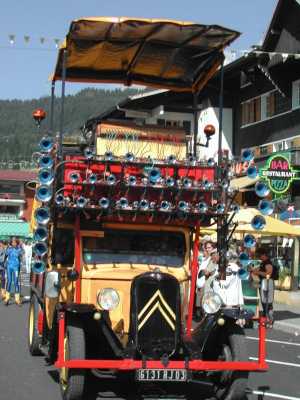 The mécanophone on parade at the Les Gets Festival, 19-21 July, 2002.
High resolution images:
mecanophone1.jpg (136 kb)
mecanophone2.jpg (121 kb)
mecanophone3.jpg (187 kb)
Visit the Mécanophone web site at http://mecanophone.com/ Indices are at http://mecanophone.com/Reboul/ & http://mecanophone.com/Mecanophone/
An article in English about the Mécanophone may be viewed at http://www.nice-coteazur.org/americain/culture/jazz/festival99/mecanophone.html
---
6 August 2002