Bremond Music Box WAV Files
by Ern Grover
I recently restored a beautiful music box by R. A. Bremond, Geneva, Switzerland. The following are WAV files that you can download from this site. They are actually microphone recordings from the music box as it played. You'll note the occasional pinging of the dampers. This is normal. Each of these files is approximately one minute in duration.
R. A. Bremond - Geneva Switzerland
1. Boccacio - Duo Mia bella Fiorentina (1046 kb)
2. Carmen - Polka (969 kb)
3. Dona Juanita - Valse de Strauss (1006 kb)
4. Guillaume Tell - Tyrolienne (1069 kb)
5. Le Petit Duc - Choeur des Nages (1145 kb)
6. Les Noces d'Olive - Marche (1163 kb)
7. Mandolinata - Souvenie de Rome (1139 kb)
8. Marche du Roi Louis XIII (1004 kb)

Ern Grover
Father & Son Clockworks (207) 490-3500
26 Webster Street, Springvale, ME 04083
ern@cybertours.com
grovers@timegoes.com
http://www.timegoes.com/ "As Time Goes By"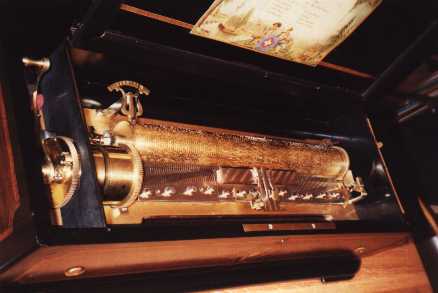 ---
9 May 1999, 4 April 2003