Chordephon 60-Note Player Zither Replicas
by Gerard Arkenbout (970326 MMD)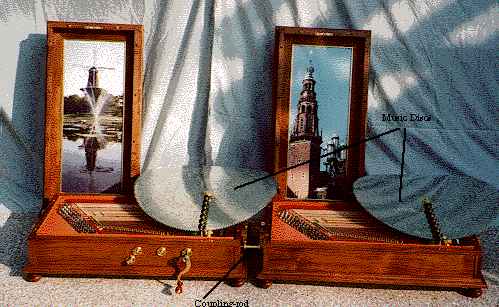 Two Chordephons coupled for "Sublime Harmonie"
Replicas constructed by Mr. Piet Leemans of Leiden, The Netherlands.
Here is my promised report about the Chordephon music boxes my former colleague has built. They are ready and playing in the "sublime harmonie" way. So coupled, they are playing sublime together. He constructed all the parts: the wooden case, the frame with brass playing part touching the sixty strings, the drive motor for the metal disc, and even the metal discs are copied or renovated by his own hand.
The attached .gif files show the copies of the photographs we made, one with the discs mounted, another with the electrical and manual driving of the boxes. The attached .wav files present sounds for at least half a minute for each tune.
cho_isabella.wav (317 Kb) "Oh Isabella, sie laest mich nicht"
cho_besen.wav (372 Kb) "Besenbinder March"
cho_donau.wav (290 Kb) "An der schoenen blauen Donau"
My colleague has a number of tunes (about 27), still he wants to have some more discs. Where can he find them?
Happy listening.
Gerard Arkenbout,
Leidschendam in The Netherlands.
Wed, 26 Mar 1997 16:09:13 GMT+1
We last heard from Mr. Arkenbout in June 1998, when he wrote that Mr. Leemans was planning a similar project to build a replica Guitarophone (Menzenhauer & Schmidt, Germany). Mr. Leemans hopes that someone can locate for him the Guitarophone drawings of U.S. patent numbers 147,341 and 147,342. See "Encyclopedia of Automatic Musical Instruments", by Q. David Bowers, page 359.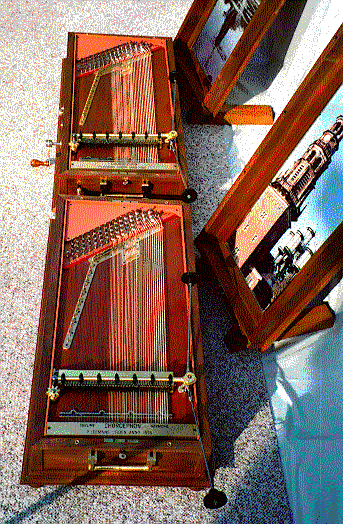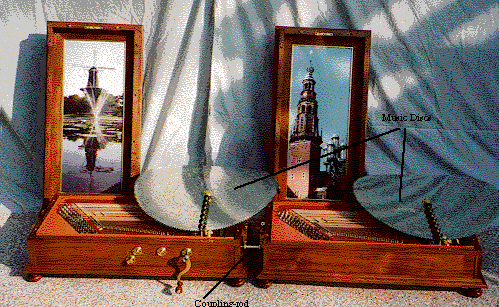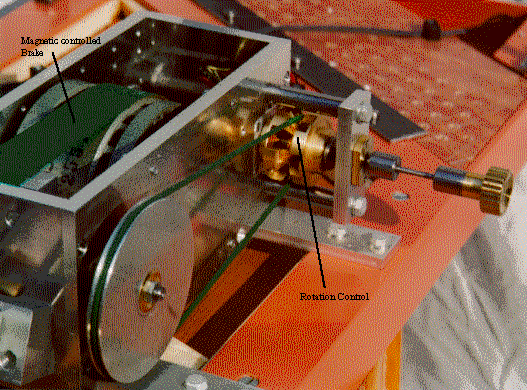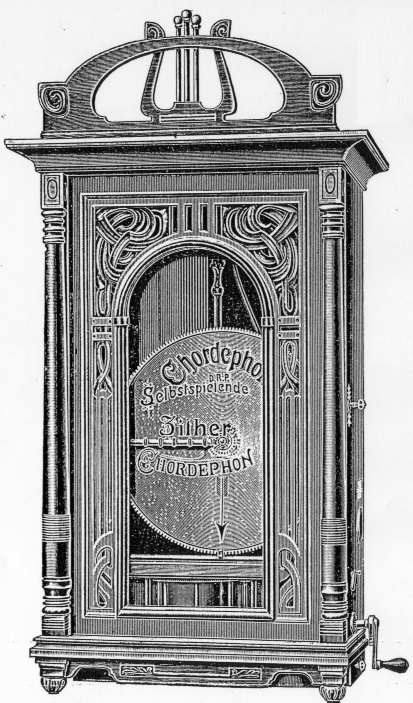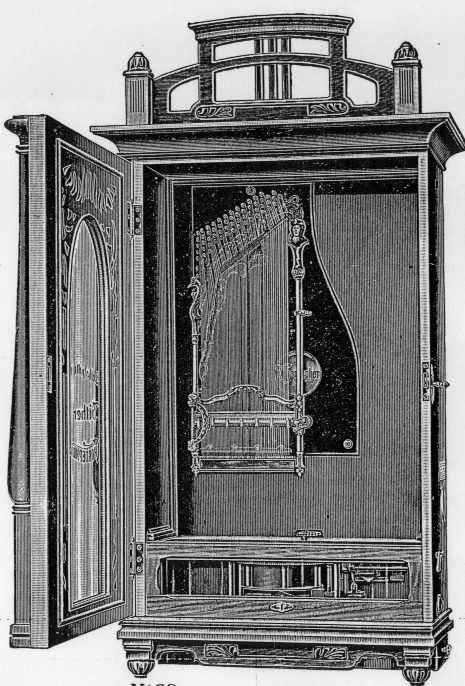 ---
31 January 2001