Peerless Elite Rolls Transcribed to MIDI Files
by Jon Guy (040713 & 040818 MMDigest)
Several years ago I acquired a Peerless Elite piano in poor unrestored condition. Some original rolls came with the piano, also in poor condition. I walked past the piano for a long time (10 years) wishing I had it in playing condition.
Then there were the rolls gathering dust with no boxes, no leaders, no tune list. I even bought more of the rolls when I could find them. I had a piano with many rolls (17), and had no idea what either sounded like.
After two failed attempts at getting the rolls converted to MIDI files I contacted Frank Himpsl and "Shazooom," he is doing it! I just received the first of the tunes today and this is great stuff. Frank is able to identify a lot of the tunes but some remain a mystery. As the project develops I plan to make the MIDI files available for all to enjoy and perhaps help identify the missing titles.
While I can't watch the roll go by, I can watch the keys go up and down on my electronic piano and at last hear this great music. This is a great way to preserve old tattered rolls or rolls in obscure formats that may be lost otherwise. Another feature would be to use the music for other formats: to make "A" rolls, for instance.
I am sending a MIDI file of one complete roll. Some tunes are unidentified so I would appreciate letting me know if you can name any of them, some seem to be turn-of-the-century. Cakewalk users may pull down the markers pane for a selectable tune list. The velocity is set at 80, which is okay for sound card listeners, however if played on a solenoid piano you probably want to scale the velocity down to 60 or below.
Jon Guy
Arnett, Oklahoma
nortwf@pldi.net.geentroep [delete ".geentroep" to rely]
13 Jul 2004 18:43:02 -0500
18 Aug 2004 15:38:29 -0500
guy_Peerless_1-30079.mid (178 kb, MIDI file)
Time Name
00:00:00:00 1 The Ragtime Betty (James Scott)
00:02:01:15 2 Unknown Waltz, spliced and incomplete
00:04:00:00 3 Haitian Rag (Ford Dabney)
00:06:03:00 4 Unknown Waltz
00:08:03:17 5 Sneaky Shuffles (Henry Lodge)
00:09:56:08 6 Unknown Waltz
00:12:34:15 7 Unknown Rag
00:14:33:01 8 Unknown Waltz
00:16:39:23 9 Hilarity Rag (James Scott)
00:18:19:15 10 Unknown Waltz
---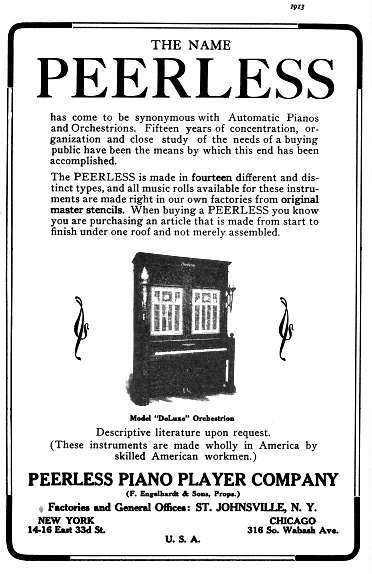 Harvey Roehl wrote in "Player Piano Treasury", page 95:
The automatic piano which first appeared on the American market was the Peerless, put out by the firm of Roth & Englehardt, of St. Johnsville, New York. In 1908 this became F. Englehardt and Sons, Inc., operated by Frederick Englehardt (together with his sons Alfred and Walter) who had been in charge of the Steinway piano action department for many years.
By 1910 this firm was producing 12 models of automatic pianos. In addition to the original model D, there were styles M; 44 (a 44-note piano with no keyboard); DX (which included bass and snare drum, cymbal, and flutes); DM (which included bass and snare drums, cymbal and metalphone attachment); style RR (which used a 20-tune roll), and style A, a large orchestrion.
By 1913 the firm was giving fancy names to its machines, and in its line lists the "Cabaret," the "Elite," the "DeLuxe," and "Arcadian" models, in addition to styles F, V, and the "Trio." The trade journals make no mention of this concern after 1915.
All 88 notes of the piano are played by the the Peerless "Elite"; the unique music roll is 14.5 inches wide, the channels are spaced 7 per inch.

---
20 August 2004