Unknown Ragtime Tune
Played on Style 38 Ruth Organ
by Hans van Oost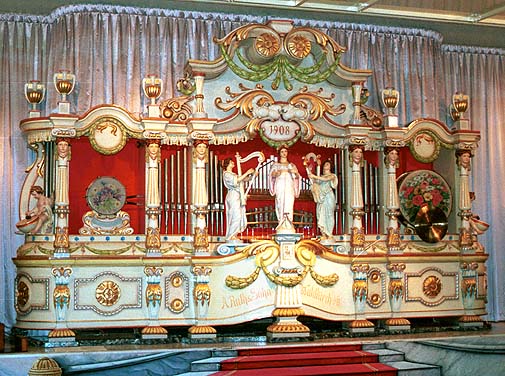 The 96-key style 38 Ruth concert organ, restored for Mr. Romy Maier of Switzerland,
is now owned by Mr. Bram Vader of Kolhorn, West-Friesland, Netherlands.
(photo by Robbie Rhodes, June 1999)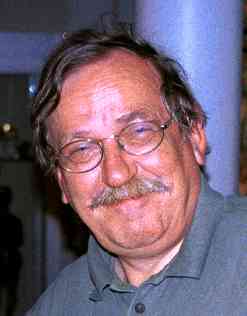 Hi Robbie, Last Sunday I visited the spring fair organ event in Ulvenhout. It was wonderful! About twenty fair organs were playing for two days at the premises of the de Voer Brothers (well-known showmen in the Benelux). There were organs by Wrede, Wellershaus, Bruder (all firms), Frati of Berlin, and two wonderful Ruth organs. One of these was the style 38 Ruth that once belonged to Mr. Maier in Switzerland. You may have heard this organ last year on the Bruder tour.
I have a CD of this last organ that was recorded recently here in the Netherlands and our editor asked me for a review of this CD. Amongst the titles there is a great ragtime number that I have never heard playing on any fair organ. Would you be interested to help me find the title and composer?
Cheers from Holland -- Spring is in the air now! I'm a happy man!
Hans van Oost
Kring van Draaiorgelvrienden (KDV)
Tue, 28 Mar 2000 22:27:19 +0200
It's known as the "Swedish Ruth" because for most of its years it was playing in Sweden. A new CD of this organ, "Kermisorgel 38er A. Ruth & Sohn" (cd Clar. 53370), is available from the KDV store: visit http://www.travel.to/kdv.nl
---
Sheet music image files, 150 dpi, approximately 8 x 10.2 inches. Download and save to a local file for printing, so that you can adjust the dpi if necessary:
unkRuthRag_1d.jpg (230 kb) - sheet music transcribed by Robbie Rhodes, page 1
unkRuthRag_2d.jpg (214 kb) - page 2
unkRuthRag_3d.jpg (210 kb) - page 3
Audio files: the MPEG is reproduced here with the kind permission of Mr. Bram Vader, producer of the CD):
unkRuthRag.mid (7 kb) - MIDI file, first part only.
unkRuthRag.mp3 (2460 kb) - The Ruth organ playing the complete song (MPEG Layer 3 format, 3 minutes, stereo 44.1 kHz).
This new MPEG format plays well using Windows Media Player ver. 5.01.52.0701, 02 May 1998, filename Mplayer2.exe Newer version 6.4, "Player 6.4 for Windows 98", is available (free) from Microsoft at http://www.microsoft.com/windows/windowsmedia/en/Download/default.asp
---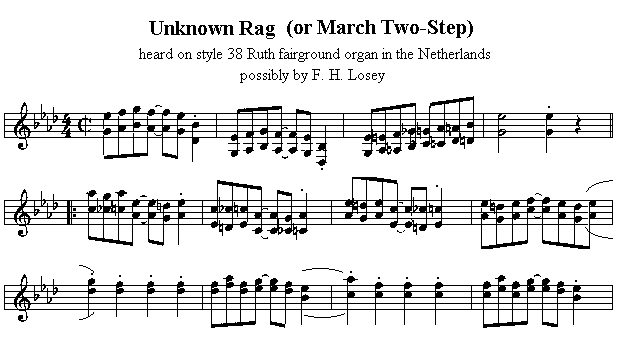 Hello Robbie,
As a result of your e-mail about "Ida and Dot", I printed the music you wrote out (I don't have the technology to listen to the sound files) and took it into the shed where I keep my 78's. The title was vaguely familiar to me and, sure enough, I found two very old versions played as cornet solos by English military bands.
Unfortunately, in this case, the tune on the Ruth organ is not the polka "Ida and Dot" by F.H. Losey, which is a vituoso cornet piece in the same style as those of Damaré or Kling with a long "pastorale" introduction, rather than a rag. It would, I'm sure, make an excellent organ book. I'm afraid I can't offer any clues as to its proper title. Good luck!
Regards,
Russell Wattam <russell@wattam84.freeserve.co.uk>
Sun, 9 Jul 2000 18:00:47 +0100
---
29 April 2000, 31 May 2000, 25 July 2000