Ampico B Intensity Scales
Fig. 10 shows the relation of the three intensity scales "Normal", "1st Amplification" and "2nd Amplification".
The lines represent the approximate pressures of the various valve settings when the Normal No. 1 intensity is 5.6" and the Normal pump pressure is 20". The Normal No. 1 intensity may be set slightly higher or lower than 5.6" according to the heaviness of the particular piano action used or climatic conditions.
Each of the eight valve settings give three gauge pressures. i.e., the normal pressure; a higher pressure when the 1st Amplification is set; and a still higher pressure when the 2nd Amplification is set. Thus by the use of the expression valves alone 24 different gauge pressures may be obtained. In addition to these 24 fixed pressures, the crescendo mechanism makes it possible to obtain any intermediate pressure desired.
The Ampico normal scale is not an arbitrary succession of steps, but is based on the different degrees of loudness that are perceptible to the ear. These different perceptible degrees of loudness are called "Audibility Steps." Extensive research and numerous tests have shown that a scale based on audible steps is the correct one for reproducing the artist's playing.
The factory setting of the pump pressure is marked on the pump spill box. The only way to alter the pump setting is to obtain a new spring from the factory, but this should be rarely necessary.
In reading gauge pressures on the New Ampico, always connect at the tap-plate under the center of the piano.
---
normal 1st 2nd
sub 5.0 7.1 10.0
none 5.6 7.7 11.35
2 6.6 9.0 13.1
4 7.9 11.0 15.8
6 9.8 13.7 19.5
26 12.4 17.2 24.6
46 15.6 22.0 31.7
246 19.6 28.0 40.0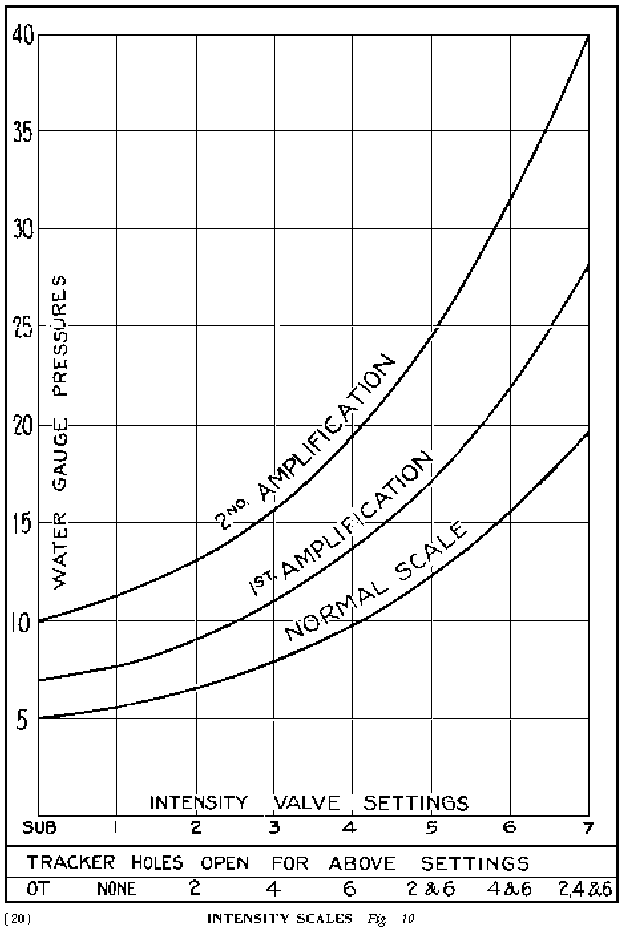 ---

Reproduced from page 20 and 21,
The Ampico Service Manual 1929,
Copyright 1929 by American Piano Company