Loud Pedal Compensation & Subdue
(Late Production)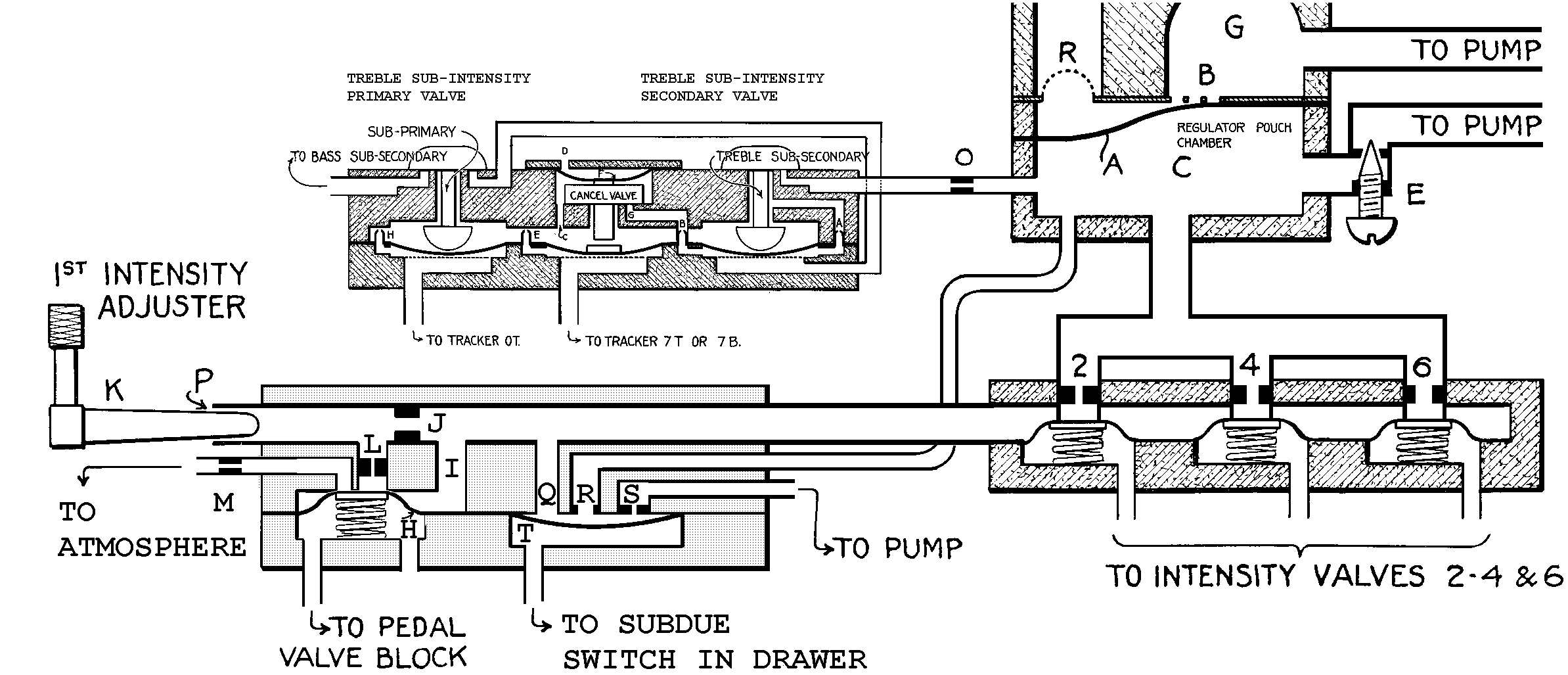 Fig. 5. (Late Production)
When the loud pedal pneumatic is collapsed, suction from the pneumatic is admitted to the under side of pouch H in the 1st Intensity Adjuster Block. Fig. 5. The pouch is pulled away from its seat, opening the by-pass I around the constriction J as well as a small channel leading to atmosphere via constriction M. This allows more atmosphere to enter the chamber C of the expression regulator as shown in Figure 4, and somewhat reduces the suction therein. The suction in the wind chest is also reduced by the same amount.
This reduction of pressure when the dampers are raised is necessary at low pressures because a note struck with the damper raised is louder than the same note struck with the damper at rest. The amount of this compensation is controlled by the size the two constrictions L and M. They are adjusted at the factory and should never be altered. Fig. 5 shows one pouch, whereas two pouches are used, one for the bass and one for the treble. The above compensation is one of a number found in the ]\ ew Ampico which helps to produce an outstanding evenness and smoothness of playing.
---
Subdue Switch
(Late Production)
by Robbie Rhodes
Ampico pianos delivered in the 1930s frequently were equipped with an added subdue switch in the drawer and an expanded First Intensity Adjuster unit, as depicted in the illustration above. The operation of the loud pedal compensator is unchanged except that fixed bleeds L and M replace the adjustable bleeds. Refer to the 1929 description of the Loud Pedal Valve Block
When the subdue switch in the drawer is turned to Subdue, suction is admitted to pouch chamber T and the pouch pulls away, connecting passage Q to both constrictions R and S. The operation is best explained by examining the effect at loud playing (2,4,6 on) and zero or sub-intensity.
Normally during the loudest passages, when constrictions 2, 4 and 6 shown above are closed, the suction in the regulator pouch chamber C increases to pump suction. However, when the Sudbue switch is on, air flows from the 1st Intensity adjuster passage, J, through passage R to reduce the suction in chamber C.
During softest passages lots of air is flowing through the 1st Intensity passage J, much more than can flow through constriction R, and so the air flow through constriction S dominates which slightly increases the suction in regulator pouch chamber C. Thus, when the Sudbue switch is on, the piano plays noticeably softer but the softest passages are just slightly louder than normal, to ensure that no notes are missed.
---

Reproduced and expanded from page 28,
The Ampico Service Manual 1929,
Copyright 1929 by American Piano Company

14 August 2004