Duo-Art Piano Concertola Drawings
by James Heyworth (030621 MMDigest)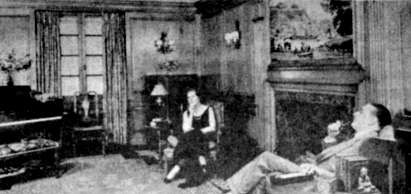 The Concertola cabinet is to the right of the piano. A small control box
under the owner's hand has buttons to select different songs.
Hello Bob, A few months ago Terry Smythe kindly sent me a set of photocopied diagrams for the piano Concertola. To me this was a most important find as I'd been looking for that information for over 30 years. (Obviously I did not treat it as a full-time job.)
I have sent JPEG image scans of the electrical system and trust that they can be posted to the MMD Archives. There are also pneumatic and layout drawings which I can send along later as well if there is interest.
These diagrams are fuzzy but the information is there. Because they are fuzzy I have had to scan them at a high resolution so you can extract as much as possible from them. This means that they are a sizeable download.
Hope this solves your problem.
Jim Heyworth
20 Jun 2003 20:35:26 -0700
---
The Aeolian Concertola changer for use with the Duo-Art reproducing piano.
"Electrical Wiring of Multiroll Concertola"
electricA.jpg 1004 kb JPEG Image
electricB.jpg 974 kb JPEG Image
electricC.jpg 886 kb JPEG Image
"Tubing Diagram of Multiroll Concertola"
pneumaticA.jpg 1,843 kb JPEG Image
pneumaticB.jpg 1,903 kb JPEG Image
pneumaticC.jpg 1,915 kb JPEG Image
"Front View of Multiroll Concertola"
frontA.jpg 982 kb JPEG Image
frontB.jpg 1,265 kb JPEG Image
frontC.jpg 1,221 kb JPEG Image
frontD.jpg 914 kb JPEG Image
---
22 June 2003