Inventor L. B. Doman
& The Maestro Co., Elbridge, New York
documents courtesy Dave Kerr
Inventor Lewis B. Doman founded
1. the Maestro company of Elbridge, NY; built the "Maestro" keytop player for reed organs and a push-up player for pianos;
2. the Amphion Piano Player company of Syracuse, NY; built player piano actions for American Piano Company (Ampico) and for Recordo pianos;
3. the L. B. Doman company of Camillus, NY; built the "Artona" pipe organ player.
These images are of documents found at the public library in Elbridge, New York:
maestroA.jpg (504 kb) - article in Scientific American
maestroB.jpg (42 kb) - article in Scientific American (conclusion)
maestroC.jpg (267 kb) - Scientific American illustrations of the organ keytop player
maestroD.jpg (121 kb) - front page of instruction manual for Maestro pushup piano player
LBDoman_obit.jpg (148 kb) - obituary, 1935 (text reproduced below)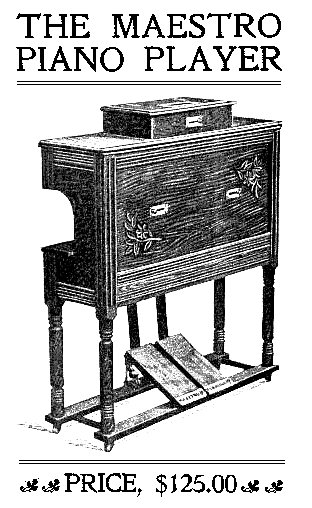 ---
[1935] Lewis Doman, Piano Player Inventor, Dead -- Illness Fatal to Pioneer at Residence Near Elbridge

Lewis B. Doman, pioneer in the player piano field, inventor and manufacturer of the reproducing pipe organ player, and founder of the Amphion Player Piano Company, died of acute erysipelas at his home at Halfway, a short distance west of Elbridge, yesterday.
Altho his health had failed during the last year, the widely-known inventor's condition did not become serious until Sunday. He had worked steadily in his Camillus plant up to that time.
Mr. Doman was born in Maiden Bradley, England, 67 years ago and came to this country with his parents when he was seven years old. The Doman family settled in Elbridge, and it was in that village the Mr. Doman organized the Amphion Piano Player company in 1896, after perfecting the player piano mechanism. Business was dull at first and orders were extremely slow in coming in. Finally, an advertising salesman for a science magazine induced Mr. Doman to advertise in the magazine and it was not long before orders began to pour in.
The little plant was not equipped to turn out the players fast enough to meet demand and, in 1909, the company moved to larger quarters in Syracuse, where the manufacture of Ampico player mechanisms for pianos began. Mr. Doman was chief engineer for the Amphion company 30 years, continuing in that capacity after its merger with the American Piano company.
In 1927, Mr. Doman perfected a reproducing pipe organ player which controls every attachment of large pipe organs, key, stops, swell pedals and couplers. The music is recorded on paper rolls similar and slightly larger than those used in a player piano. Two such organs had been constructed when the announcement of the perfection was made in 1927. One was in Mr. Doman's former Syracuse home at 2842 East Genesee Street, and the other in the North Clinton street plant.
The latter instrument was a three manual organ, having 32 notes in the pedal, 100 or more stop tablets, two swell pedals and a crescendo pedal. The reproducing player mechanism, Mr. Doman said in his announcement, could be attached to any electro-pneumatic organ.
In 1928, the inventor and a son, John A. Doman, established the L. B. Doman corporation, in Camillus, and began the manufacture of the organ player in a building formerly used as a knitting mill. The family moved from Syracuse to Camillus and later to a farm at Halfway.
Mr. Doman is survived by two sons, John A. Doman of Syracuse, and Thomas E. Doman of Halfway; two daughters, Miss Ethyl M. Doman of Halfway, and a brother, George F. Doman of Elbridge. Mrs. Doman died two years ago at the Halfway home.
Services will be conducted at the home at 2 o'clock Saturday afternoon by Rev. M. J. Winchester, former pastor of Elbridge Baptist Church, assisted by Rev. E. J. Burton, pastor of Camillus Baptist church. B. L. Bush & Son, Jordan funeral directors, will take the body to Jordan for burial in Maplegrove cemetery.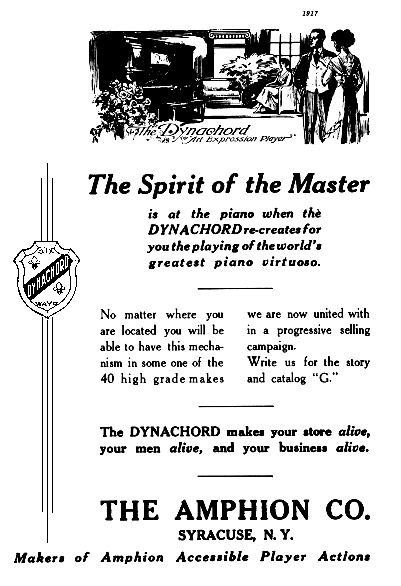 ---
03 December 2001