Duo-Art Fan Accordion Expression Units
by Bruce Grimes (040517 MMDigest)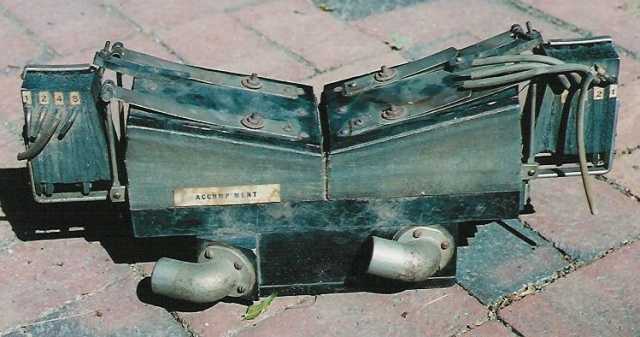 Each expression regulator pneumatic has two leaf springs. The Theme regulator
(on the right side above) also has an added pair of shorter "overload" springs.
Attached are two photos of the Duo-Art fan system I'm particularly looking for. They were apparently designed for the above keyboard "drawer" models. Those are the ones that have spoolbox, stack and expression box in a sliding drawer, all above the keyboard. Note they have leaf springs but no wound coil springs (saves space).
Presently I know of several complete pianos with this system, and several units on parts shelves, accounting for six of this model. The earliest piano with one of these seems to have been built in 1928. Development would have to have taken place probably in 1926 or 1927.
My guess is there are more. They do not take long-play (Jumbo) rolls; so far as I have seen, though, I would not be surprised to see one of the jumbo top-action spool-boxes fitted into one of these above keyboard drawers.
I would like to beg, borrow, rent one of these expression boxes that only has leaf springs for a month. Would buy, if necessary. Would also like to buy a Duo-Art transposing tracker bar.
Bruce Grimes
17 May 2004 15:56:06 -0400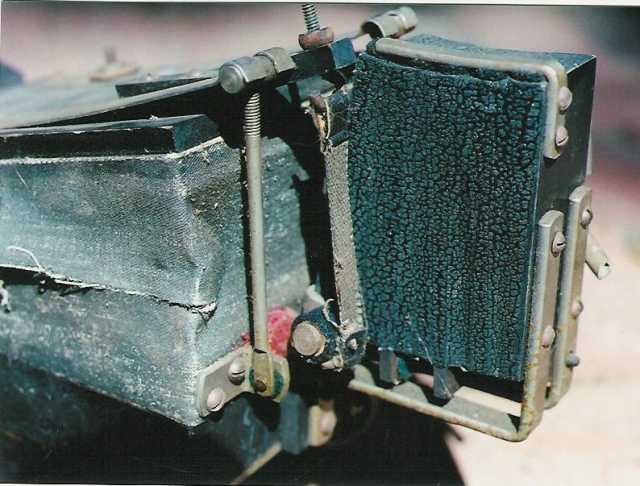 The top of the strap is supported by an adjustable hook attached to the movable board of the expression
regulator pneumatic. Visible near the bottom is a roller whose axle is moved horizontally by the action
of the fan pneumatic. The lower end of the strap pulls on a horizontal wire rod which exits the base of
the expression regulator pneumatic through the red felt bushing. The rod moves the curtain valve within.
---
17 May 2004