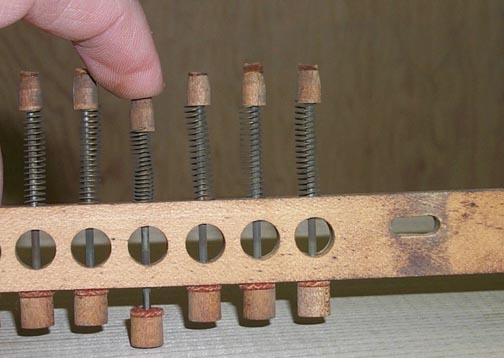 (Photo by B Bronson)

This is very familiar in the full size Coinola nickelodeon. I don't know if it was used in the Midget series It is actually a wooden slat drilled precisely through the thin dimension so that there is a guide hole for the notes on the treble end. A metal rod goes through the hole with a wooden button each end.

The system is installed between the hammers and the strings and has slotted holes in the slat which fit over pegs that allow it to move left and right. When the music roll calls for the mandolin effect, a pneumatic pulls the system to the right, placing the back end of each rod in front of the hammer shank. As the note plays, the shank hits the rod, throwing it at the string, which is hit with the front button. The rod is returned by a light coil spring.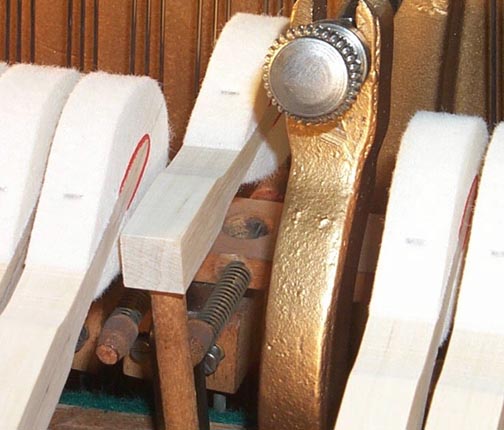 With the mandolin "off", the hammer shanks fly up between the rods. The ones I have seen have been engineered to require the rod to hit the string from momentum. In other words, if one gently pushed the hammer fully, the rod would not be touching the string.
Another variation on the hanging strip theme was that used in the Nelson- Wiggens. I have seen a couple that appeared to be quite original which used a pump type cloth with a thin (1/8") wood piece glued on each strip. The few I have seen appeared to have the wood directly between the hammer and string.
More Coinola photos at mandolin2.html.
B Bronson
Fri, 7 Jan 2000 14:41:09 -0500