Repairing Wandering Holes in a Music Roll
by Joyce Brite (020524 MMDigest)
I recently acquired a number of 1960's QRS and Aeolian piano rolls at an auction. In the lot there were many good rolls which rarely show up in the second-hand market.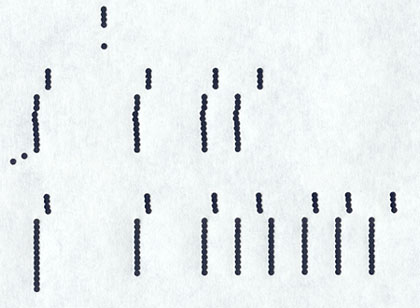 One of the Aeolian rolls is a cute children's tune with pictures stamped on it. I played it a few times and noticed that I always had to adjust the trackerbar while playing. The music drifts off-track then returns a few bars later. After making sure the roll was wound evenly, I discovered that the problem was actually shifting or uneven perforations. Evidence of this was seen more clearly in another place in the roll. I have scanned part of the roll and sent it as a separate file.
Aeolian should have found this flaw in the 1960's. Since the company is no longer in business, I cannot return it to them as defective and ask for a replacement.
My pumper piano does not have an automatic tracking system. Is there an easy <grin> way to repair this roll so that it tracks properly without splicing and realigning it? One would need a microscope and the skills of a surgeon to adjust the mis-cut section one or two millimeters. Suggestions?
Thank you,
Joyce Brite
Player Piano and Mechanical Music Exchange
http://www.mmdigest.com/Exchange/
24 May 2002 19:47:49 -0500 (CDT)
---
24 May 2002