Tribute to Philippe Rouille
by Joyce Brite (130725 MMDigest)
I was saddened to hear of the passing of Philippe Rouillé while I was attending the AMICA convention in San Francisco. Philippe was a part of the MMD since the early days and he was the first French member to join the list. He was active in several mechanical music organizations including AAIMM (Association des Amis des Instruments et de la Musique Mécanique).
Philippe and I first "met" through MMD when I responded to an early post of his concerning the lack of non-English language articles. I replied to him in French which I'm sure surprised and intrigued him. A couple years later, I made my first trip to Europe and actually met Philippe in Paris.
I found him to be a gentle, soft-spoken man with a sweet smile. He was reserved but very generous, with a great sense of humor. He accompanied me on a few trips around the city when he was not working. When he couldn't go with me, he gave me helpful advice and guidance concerning how to get around the city, and also warned me about potential tourist scams and what to look out for. And for that, I am forever grateful!
On one of my trips, Philippe, Douglas Heffer and myself went to a piano workshop just outside Paris. Amid the uprights, grands and square pianos of the workshop was a recently completed Philipps "Jazz Band" orchestrion which we enjoyed listening to. After the visit, Philippe and I had lunch at a nearby restaurant/bar. This place was off the beaten tourist path but the food was wonderful and the atmosphere truly French -- a gem of a place.
On another trip, as we were leaving Douglas Heffer's former workshop in Montmartre, we wanted to get a photo of the three of us but needed someone to take the photo. Philippe stopped a passerby and asked him to take the photo. The passerby resisted at first, looked at his watch and said he was in a hurry, but he finally relented and took the photo for us. Philippe laughed it off and said, "Typical Frenchman. Rude at first but in a few minutes, he wants to take you to the bar." That was Philippe's sly sense of humor. He could laugh at himself and his fellow countrymen.
Besides his knowledge of mechanical music instruments and his love for them, Philippe was fluent in both English and German which allowed him to work as a translator. A fine example of his work was the translation from German to French of "Musee d'Instruments de Musique Mécanique." He also had a passion for horology and published "Le Grand Livre des Montres" (The Big Book of Watches). In addition to these books, he also published many articles for the mechanical music societies.
Philippe was an advisor and translator for the semi-annual mechanical music auctions in Chartres. He worked with Robbie Rhodes and myself to post photos and descriptions on the MMD web site of the items offered for sale, and also the prices realised after the auction.
The mechanical music world has lost an exceptional man. Those of us who were fortunate to know him will greatly miss him.
Joyce Brite
24 Jul 2013 22:13:07 -0500 (CDT)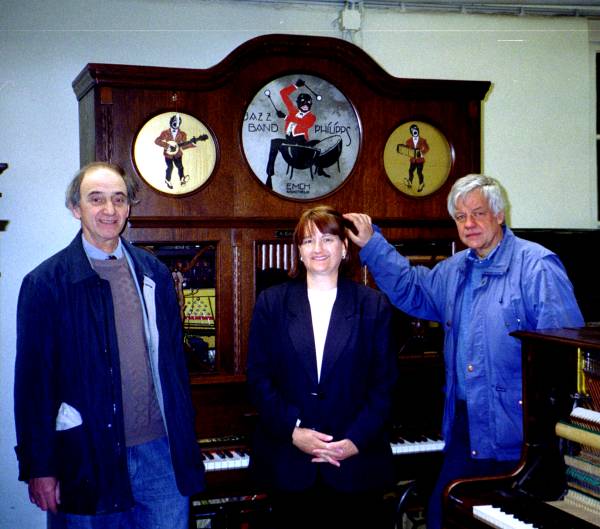 Philippe Rouillé, Joyce Brite, Douglas Heffer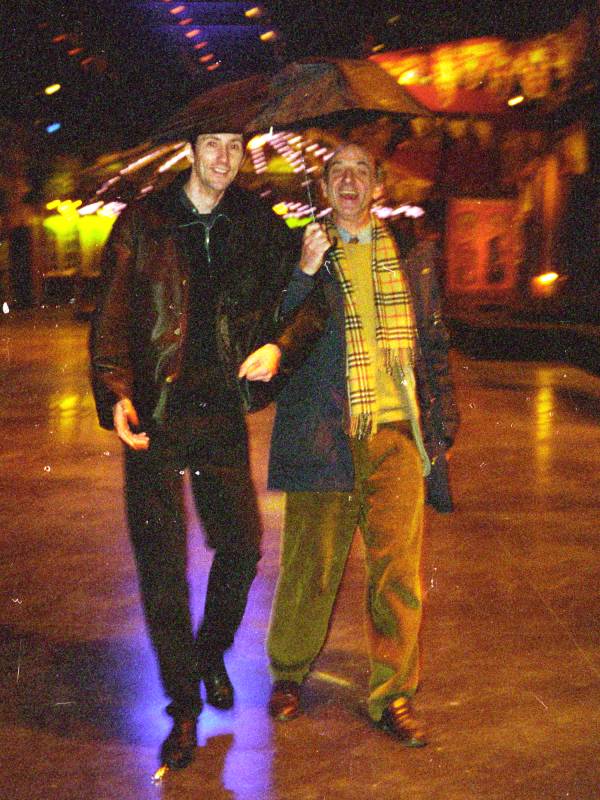 "Singing in the Rain"
---
26 July 2013