Gem Organetta with Brass Music Roll
by Brian Chesters (000731 MMD)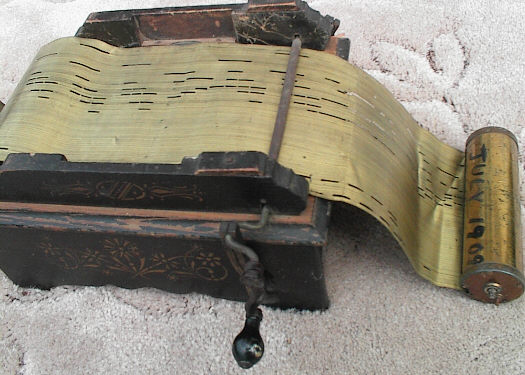 Hello MMD, I recently bought a "Gem Organetta" on eBay, not to be confused with the Gem organette or cob organ. It arrived today.
It is a type that I have not seen before; the 14-note roll is made of sheet brass which is coiled up in a cartridge (similar in style to the later player piano, the Tel-Electric) and there does not appear to be any way to remove the roll and cartridge from the organ.
Questions: (1) Has anyone got one of these in their collection? (2) How do you remove the roll? It appears to have a part missing.
Similar to the Reed-Pipe Clariona, I guess there should be a reed pipe on the top. Is this correct?
Brian Chesters
Mon, 31 Jul 2000 18:39:18 +0100

---
31 July 2000