European "Rolla Artis" Piano Rolls
by John Phillips (000706 MMD)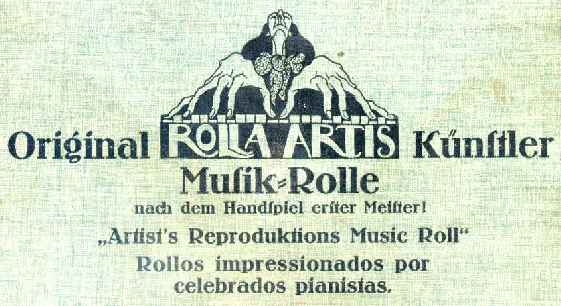 Original "Rolla Artis" artists' music-roll
after the hand-playing of the first masters!
Rolls punched by celebrated pianists
The other day I was eating my lunch and trolling through Robbie's list of music roll brand names at the MMD Media Site when I came across the name Rolla Artis, a brand manufactured by Wurlitzer. That sounded familiar, so when I got home I had a look on my roll shelves. Sure enough, I have three Rolla Artis piano rolls, but they weren't made by Wurlitzer -- they are European.
These rolls have a fairly nondescript label but have a very striking design on the leaders. It's a drawing looking straight up the nostrils of a rather mad-looking pianist wearing a bow-tie or cravat in very questionable taste. It seems to have been drawn from the point of view of a bug sitting on middle C.
I asked Julian Dyer about these rolls and he has discovered that they were made by a German company situated in Leipzig. He has never seen one, which indicates that they are not common.
John Phillips in Hobart, Tasmania
Date: Fri, 07 Jul 2000 10:10:29 +1000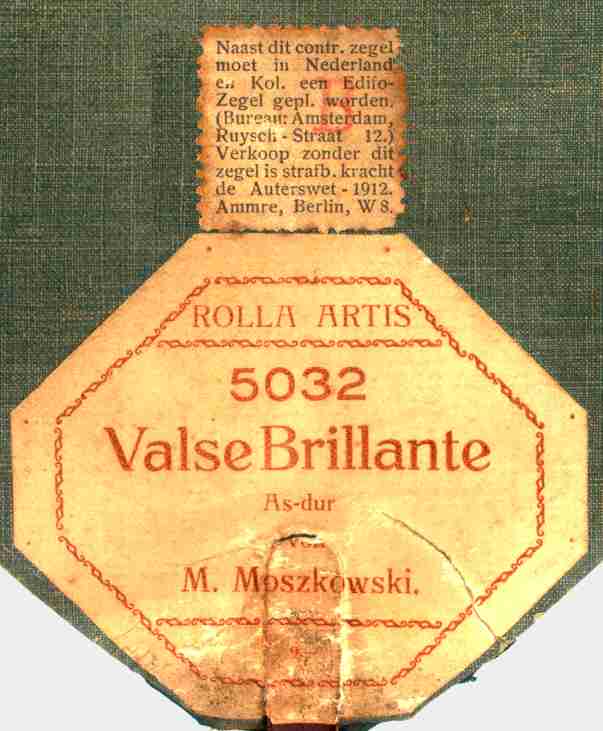 Hans van Oost has translated and explained the Dutch text:
"In the Netherlands and colonies [Surinam, Neth. Indies, Neth. Antilles] next to this control
seal an Edifo-seal must be placed ( [available at the] office: Amsterdam, Ruysch Street 12. )
Selling without this seal is punishable according to the copyright law of 1912. Ammre, Berlin,
W 8 [possibly the address of the roll producer or of the copyright office in Berlin].
"Edifo seals were meant to pay the copyright dues on sheet music, rolls, books and gramophone records.
They were issued by copyright offices like the one in Amsterdam. The system ended in WW2."

---
08 July 2000